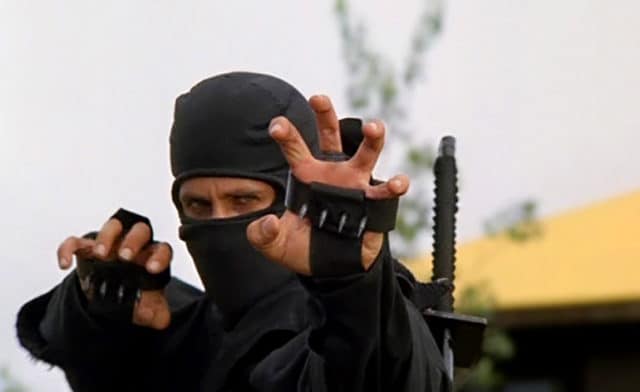 The ninja, or shinobi as they are also known, are a group that originate from 15-th century Japan. They are shrouded in mystery even to this day and have many myths surrounding them. The group was originally formed to perform a range of clandestine operations and assassinations. They took any jobs that the samurai did not want as it could damage their reputation. Martial arts were used in their attacks and Ninjas had a bad reputation because of their underhand activities. Although they were disliked, their activities are the perfect basis for action movies. The gymnastic maneuvers they use in battle are spectacular to watch and their use of weaponry adds extra excitement and drama. Movies about ninjas created outside of Japan often embellish the abilities of the ninjas for dramatic effect. There are many movies based on the ninja and there is a huge following for this genre of film. If you enjoy this type of action movie, then here are the top 20 ninja movies of all time that you should watch at least once in your life.
1. Ninja Assassin
Released in 1962, this is one of the earliest films that depicted the activities of the ninjas. Goemon Ishikawa is a rogue ninja who is battling against a Buddhism hating warlord. The film starred Raizo Ichiwaka and was so popular that a total of eight films were made with Ichiwaka in the lead role for each. The movies are based on a series of novels and they are fantastic to watch if you are a fan of the old-school samurai-style movies.
2. Shadow Hunters
Set in the Tokugawa era, three men who hate the ninjas hunt them down with the intention of killing them. Released in 1972, this movie is based on a comic series. There are some fantastic displays of martial arts and plenty of nudity and violence thrown into the mix.
3. The Third Ninja
This 1964 black and white movie is set in 1572. Three ninjas find out that a rogue ninja is set to assassinate their warlord. The activities of the ninjas are portrayed in a realistic way that is typical of the early ninja films that are more concerned with realism than creative drama.
4. The Octagon
The Octagon is a 1980 movie that sees Chuck Norris taking on a band of ninjas. The ninjas have set up ninja training camps around the world so they can train ninjas in preparation for terrorist attacks. Highlights of this movie include an epic final battle and a thrilling car chase. One of the key features of this movie is that the audience can hear the inner voices of the movie's characters.
5. The Killer Elite
Sam Peckinpah directed this 1975 move that is about conflicts in friendships, honor, and loyalty. George takes a deal with a ninja organization and shoots his best friend and partner, Mike, in the elbow and the knee. When Mike recovers, he sets out to take revenge on his former friend. The film stars Robert Duval and James Caan.
6. Goemon
Kazuaki Kiriya directed this Japanese historical fantasy movie which was released in 2009. It is based on the story of an outlaw hero who stole form the rich to give to the poor; not dissimilar to the theme of Robin Hood. Although the ninja battles are amazing, this movie is particularly noted for its use of over 2,500 visual effects. The lead role was played by Yōsuke Eguchi and the English dubbing for this role was provided by Travis Willingham. Also starring in this movie were Tokimasa Tanabe, Takeo Osawa, and Takeru Satoh.
7. Enter the Ninja
Enter the Ninja was released in 1981 and ultimately led to the explosion in the popularity of ninja movies in America. Although there were already ninja movies released in America, this was the one that appealed to moviegoers the most. Franco Nero takes the lead as a man who has trained as a ninja. He visits his friend in the Philippines and is required to put his training into practice. Nero wasn't the first choice for the role as Mike Stone was originally cast in the role. Unfortunately, Stone's acting wasn't up to scratch so he was replaced by Nero. However, Stone was kept on to do some of the stunts
8. Five Element Ninjas
Cheng Tien Chi, Lo Mang, Lung Tung-Sheng, Wang Li, Michael Chan, and Yu Tai Pei starred in this 1982 Hong Kong martial arts film. When a martial arts school are defeated by their rivals, they hire ninjas from Japan to take them down. The movie was co-written and directed by Chang Cheh who also directed the 'Venom Mob' movies. Lo Mang appears in both 'Five Element Ninjas' and in the 'Venom Mob' movies. Reception of this movie was mixed but if you enjoy a film with a high body count, you will love 'Five Element Ninjas'.
9. Ninja in the Dragon's Den
Released in 1982, this Hong Kong production sees a Chinese martial artist and a ninja joining forces to take on a sorcerer. 'Ninja in the Dragon's Den' was the directorial debut of Cory Yuen and he was also the action choreographer for the movie. Since then, Yuen has directed many American movies, including 'The Transporter'. Starring in 'Ninja in the Dragon's Den are Hiroyuki Sanada and Conan Lee. Sanada has also starred in '47 Ronin' and 'Twilight Samurai' while Lee has played lead roles in 'Gymkata' and 'Tiger on the Beat'.
10. Revenge of the Ninja
This is the unofficial sequel to 'Enter the Ninja' and was released in 1983 and stars Shane Kosugi who plays a father who takes his son to America to start a new life following the murders of his family by ninjas. Their new life doesn't quite go to plan when he and an American friend open a doll shop. It transpires that not only is his friend using the dolls as a means of shipping heroin, he is also secretly a ninja. Some excellent fight scenes then ensue and the final fight on the rooftop is especially exciting.
11. Ninja III: The Domination
This film is a strange mix of supernatural meets action film but it is a combination that works. An aerobics instructor becomes possessed by the spirit of a dead ninja who wants revenge. He uses the woman's body to kill. There is just one person who can help the woman out of her situation and that is a good ninja who is played by Sho Kosugi. This film was released in 1984.
12. Ninja vs. Shaolin Guards
Also released in 1984 was 'Ninja vs. Shaolin Guards'. A group of Shaolin monks are being hunted down by ninjas, zombies, gangsters, and some guy carrying a bow and arrow. There are some amazing fight scenes between the monks and the ninjas. There is one scene set in a graveyard where the monks fight dressed as clowns. While some people think this is one of the best ninja movies of all time, others have criticized the movie for having too much comedy to make it a true ninja film.
13. Gymkata
In this 1985 movie, a American champion gymnast is chosen to represent his country in a sadistic game that, if he wins, means the United States can have a space satellite monitoring station in the country where the competition is held. The game involves him fighting ninjas and this means he has to combine his gymnastic skill with martial arts. The movies stars Kurt Thomas, an Olympic gold medalist.
14. Pray for Death
Sho Kosugi stars in this film along with his sons, Shane and Kane Kosugi. Also starring in this movie are Norman Burton, James Booth, and Michael Constantine. This Cannon Films production was released in 1985 and was directed by Gordon Hessler. A Japanese man, who is secretly a ninja, is persuaded to immigrate to the United States by his American wife as it is where she wants to raise their sons. They buy a restaurant that is a mob drop off. When some jewels go missing, the mob go after the ninja and his family, forcing him to put his ninja skills to use. Some of the best scene in the movie are the opening fight scene and a flashback fight scene.
15. Ninja: The Final Duel
In this 1986 movie, a ninja kills himself after murdering a Shaolin abbot. The ninja clan then seek revenge on the Shaolin monks. The training sequences are some of the best parts of this movie as you see some amazing kicks, flips, acrobatics, and other skills. Originally, this movie was a Taiwanese television show that included twelve hours of action. The series was edited to create the film. Robert Tai directed the movie and it starred Alexander Rei Lo, Alice Tseng, and Alan Lee.
16. American Ninja
'American Ninja' is another film produced by Cannon Films. While an American soldier is stationed in the Philippines, he discovers that he was trained as a ninja during childhood. This comes in handy because he has to take on a group of ninjas. The film starred Michael Dudikoff and four sequels of this movie were made, though Dudikoff is not in all of these. 'American Ninja' was released in 1985 and was directed by Sam Firstenberg.
17. Ninja: Shadow of a Tear
This film is also known as Ninja II and is an American martial arts action film. Starring in this movie are Scott Adkins, Mika Hijii, Kane Kosugi, and Shun Sugata. Bangkok in Thailand was used as the location for filming and the movie was directed by Isaac Florentine. Casey Bowman is married and his wife is expecting his first child. He returns home to find her slain. Following the funeral of his wife and unborn child, Bowman sets out to seek revenge. This 2013 film is the sequel to Ninja, released in 2009.
18. Lethal Ninja
This low-budget 1992 movie is about the ninja kidnapping of the wife of a CIA guy who also just happens to be a ninja. Two of the best scenes in this move are the ninjas fighting on roller-skates and the final dual on the top of a piece of high machinery. The film ends with the right result when the bad guys fall from the machinery.
19. Sakura Killers
Following the theft of some research tapes and a number of random ninja attacks, two Americans are sent to Taiwan to investigate what is going on. When they arrive, ninjas are sent to warn them off. The two men must train as ninjas in order to beat the bad guys. There is a great ninja training sequence involving the good guys followed by some exciting fight scenes throughout the movie. 'Sakura Killers' was released in 1987 and was directed by Dusty Nelson and Wang Yu. Starring in this move were Chick Connors, Mike Kelly, and George Nicholas.
20. Shogun Assassin
'Shogun Assassin' is a 1980 jidaigeki film that was made specifically for the American and British markets. It was co-written by Robert Houston and David Weisman. Houston also produced the movie while Weisman was also the director. Starring in 'Shogun Assassin' are Tomisaburo Wakayama, Kayo Mautso, and Akiji Kobayashi. There is so much extreme violence in this movie that the Home Office almost banned its release. Thankfully, its release was finally allowed.