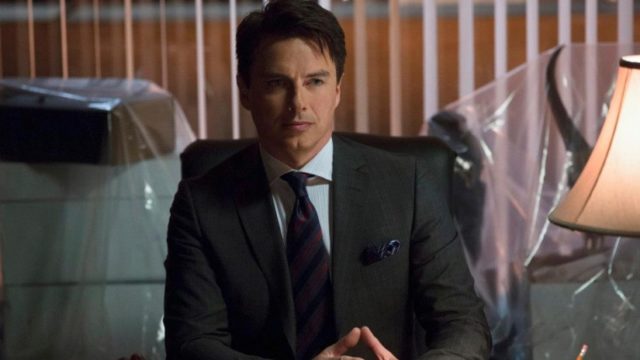 If Stephen Amell hasn't made fun of this on social media yet then I'm sure it's coming. I bring up Amell because John Barrowman has been a cast mate of his on Arrow for his. I also bring it up because the biggest news from Arrow other than the show itself is the fact that Stephen Amell destroyed the challenge course on Celebrity Ninja Warrior recently. Everyone's been sharing the clip and impressed at Amell's physical prowess.
But before we go praising Amell anymore, people need to know that Barrowman just performed his own feat of strength. Arrow's John Barrowman is a man of many talents, and during the recent Heroes and Villains Fan Fest, he added another accomplishment to his resume.
Barrowman plays Malcolm Merlyn on Arrow and Legends of Tomorrow, but he rarely has the chance to tap dance in heels during production. He took the opportunity at Heroes and Villains Fan Fest to put on some white high heels and bust out a few taps, which you can see in the video belowWhile he was there he also did a lovely rendition of "Can't take my eyes off you". Fans need to enjoy it while they can, as the character met his end in the season 5 finale.