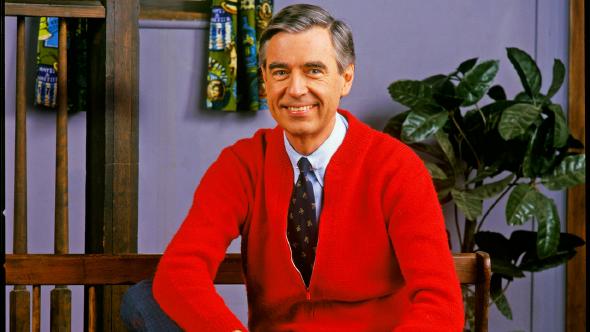 If you're trying to stay clear of political news and Melania Trump refusing to touch Donald's hand, you might be aware of the "Mister Rogers' Neighborhood" marathon that began on Monday afternoon over on Twitch. And by marathon I mean they were showing every single episode ever which to me is considerably more important than Melania Trump. In the same way that one zones out while watching Bob Ross painting, the same can be said for watching Mister Rogers. It's just incredibly soothing and a nice escape from the realities that plague us all.
Part of what soothed us on that show was not only the calm voice and demeanor of Fred Rogers but also his incredible wardrobe. He'd rock amazingly comfortable pants, change into his slippers and always put in a signature sweater. But do you know how many colors of sweater he actually pulled off? Way more than you think.
Back in 2011, on his blog devoted to all things Mister Rogers, neighborhoodarchive.com, Tim Lybarger recorded the color of every sweater Rogers wore in each episode between 1979 and 2001. "When I realized such a resource didn't exist," Lybarger told me over email, "I just felt like somebody needed to do it…might as well be me."
The chart below uses the data Lybarger meticulously collected to show how Rogers' preferences for the color of his cardigan changed over time.
Click on the photo to enlarge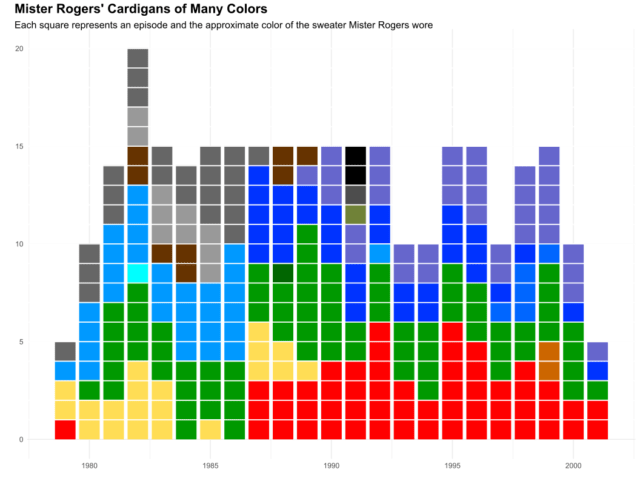 Tell us what's wrong with this post? How could we improve it? :)
Let us improve this post!