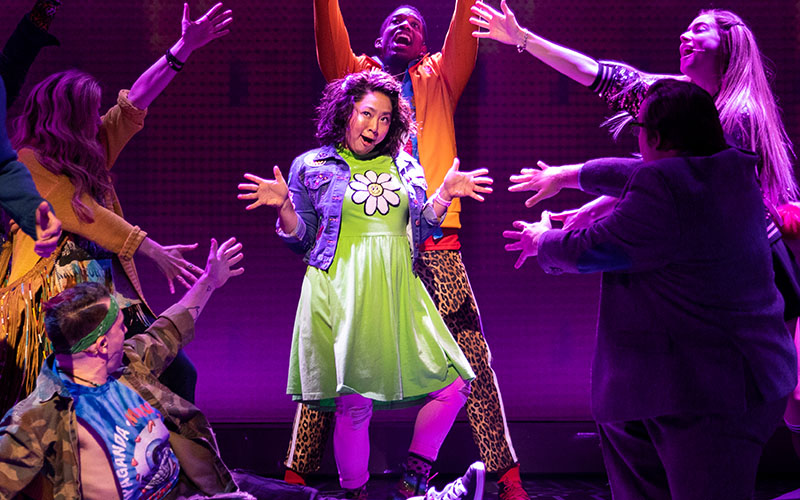 At 31 years old, Stephanie Hsu has already been in the entertainment industry for almost 20 years. From the big screen to the small screen, she has shown that she is the true definition of a star. Her ability to move between genres and play a wide variety of characters has not gone unnoticed. Some of her most well-known credits include the TV series The Marvelous Mrs. Maisel and the film Everything Everywhere All At Once. Not only have the last several years of her career been widely successful, but she has plenty more where that came from. Stephanie has several projects in the pipeline that will be released over the next year or two. Keep reading to learn 10 things you didn't know about Stephanie Hsu.
1. She Is a California Native
Stephanie was born and raised in Torrance, California native. Although the West Coast will always have a special place in her heart, she eventually decided to relocate to New York City to pursue her dreams of becoming an actress. It's unclear where she resides at the moment.
2. She's Done Some Voice Work
The vast majority of Stephanie's career has been spent doing live-action work, but that isn't the only way she makes the most of her acting skills. Stephanie made her voice acting debut in 2018 with an animated project called The Myth of Robo Wonder Kid. She will also have a voice role in an upcoming movie called The Monkey King which is set to be released in 2023.
3. She Studied at NYU
There are lots of actors who chose to forego formal acting training and jump right into the audition process. Others, however, decided to make the most of their skills by going to drama school. Stephanie is part of the second group. She studied acting at New York University's Tisch School of the Arts.
4. She Is An Award Winner
There's nothing better than knowing that your hard work and talent are being recognized. This is something that Stephanie has gotten to experience several times. She has already won a handful of awards including a Screen Actors Guild Award for Outstanding Performance by an Ensemble in a Comedy Series for her role in The Marvelous Mrs. Maisel.
5. She Enjoys Traveling
Stephanie's success as an actress has allowed her to have lots of great opportunities. Among them has been the ability to do lots of traveling. Not only has she gotten the chance to visit different parts of the United States, but she has also traveled to other countries such as Ireland and Indonesia.
6. She Loves Fashion
Everybody can put on an outfit, but not everyone has the style to pull it off. Luckily for Stephanie, style is something that she has plenty of. She loves being able to express herself through her clothing, and she is a queen when it comes to pulling off the perfect look for every occasion.
7. She Is Passionate About Human Rights
Taking a stand on issues that are sometimes deemed controversial isn't an easy thing to do. However, Stephanie is all about standing up for what she believes in. Stephanie is passionate about several human rights causes including the fight to end racism, LGBTQ+ rights, and women's rights.
8. She Likes to Garden
If you're anything like me, you can't keep a plant alive to save your life. However, that isn't a problem that Stephanie has. Stephanie has a green thumb and she enjoys spending time outdoors and tending to her garden. Occasionally, she likes to share her progress on social media. Needless to say, she has nothing but love and respect for the beauty of nature.
9. She Wants to Do More Movies
Throughout her career, Stephanie has spent most of her time focusing on TV roles. However, over the last couple of years she has been making a shift towards the big screen, and that's something she hopes to keep doing. She told W Magazine, "I wanna make more movies. I feel very clear about that". I think it's safe to say that her fans would consider that to be good news.
10. She Enjoys Taking Pictures
As an actress, Stephanie spends most of her time in front of the camera. However, in her free time she enjoys looking at things from the other side. Based on her Instagram account, it appears that she has an interest in taking pictures and she also has a natural eye for it. That being said, it doesn't appear that she has any interest in pursuing photography as anything other than a hobby.
Tell us what's wrong with this post? How could we improve it? :)
Let us improve this post!