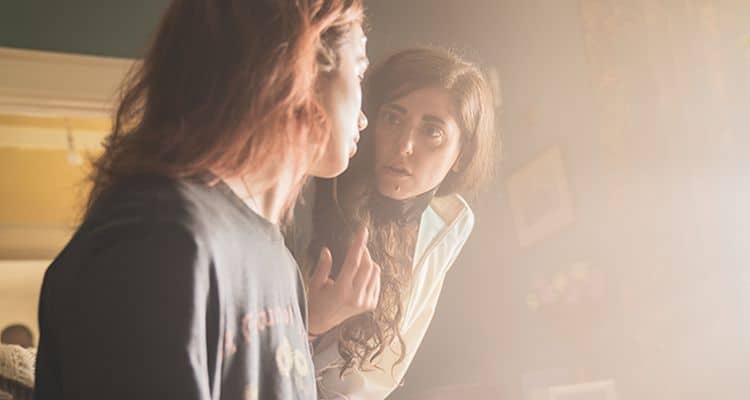 Ginevra Gentili is a British-Italian film director, producer, and writer based in London, UK, where she's lived since 2011. While her interest in film comes from her childhood, it took Ginevra a while to take the path she wanted to take. Here are ten things about her that you probably didn't know…
1. She loved entertainment at a young age.
As a child, Ginevra enjoyed acting, dancing, and performing. She frequently participated in school plays and musicals. Growing up, she found it more daunting and lacked the confidence to perform, and from there, she discovered her love of being behind the camera.
2. When Ginevra was a teen, she picked up a camera and wrote a script.
In 2005, when she was 13 years old, Ginevra first picked up a camera; it's also the year she wrote her first attempt at what some may call a script. However, she didn't realise this until many years later, when she came across the 140-page romantic drama buried in a box; she said to herself:" well, that's not a script or a book, but nice try!" and got a loud giggle out of reading the story.
3. She is inspired by her mother.
Ginevra originates from the southern part of Tuscany, Maremma, and she grew up in the countryside near the village of Scansano with four siblings. Her mother is Fattoria Le Pupille's winemaker Elisabetta Geppetti, the first woman to win the "Winemaker of the Year" award from the German magazine Der Feinschmecker and Wein Gourmet. Fattoria Le Pupille's most famous wine (Saffredi) recently appeared in the "Sex and The City" reboot, "And Just Like That." Elisabetta and her passion for her craft are one of Ginevra's biggest inspirations.
4. Ginevra pursued her artistic interests in school.
Raised between Italy, the UK, and Switzerland, Ginevra attended TASIS in Lugano (The American School in Switzerland) between 2007 and 2011. Here, she pursued her creative interests in photography and experimented with many mediums. Ginevra created a 12-metre long audio-visual installation for her photography final year exhibition, which combined the arts of photography, film, and music. She considers the four years she spent in Lugano her most formative ones and some of the most enjoyable ones of her life to date.
5. She started her own independent film production company.
In her early twenties, Ginevra made the transition from photography to film, writing her first feature and directing her first short in 2013. After freelancing for a number of years, in 2019, she decided to found and start her own independent production company, North Harley Films. Her films have screened internationally, and at the end of 2021, she won Best Female Director at the Independent Shorts Awards in Los Angeles with her coming-of-age short film "Tell Tale Signs." Her production company aims to be a platform and voice for diverse and up-and-coming talent within the industry, focusing on women filmmakers and content centred around mental health, real-life, and female-led stories.
6. Ginevra extends her interest of art to include music.
Besides film, one of Ginevra's biggest passions is music, which also comes across in her work. She loves all aspects of filmmaking, but one of her favourites is working with composers. She enjoys most genres, both from the past and the present. As a hobby, she enjoys playing the guitar and songwriting. She also continues her photography as a side interest while travelling, focusing on landscapes and nightscapes.
7. She is an animal lover.
Ginevra grew up with dogs and is an animal lover; she is the proud owner of a three-year-old Siberian Husky called Orion and a 7-month-old cross German Shepherd named Argie. If you ever meet Ginevra at her company's HQ, chances are her faithful companions will be there and, on occasion, even on set!
8. Ginevra is living with a health condition.
Ginevra was diagnosed in 2020 with TMJ Disorder. While still looking for solutions and treatment to best live with the condition, she jokes that this is due to the stress of being both a director and producer.
9. She has big goals in the film industry.
Though Ginevra has already written a fair few feature scripts, she's been waiting for the right time to debut with a feature and for the right idea. She is now developing "Souls Divided," a feature-length drama based on a true story. Her goal is to enter pre-production later in 2022.
10. Ginevra is debuting her latest film soon.
Her latest short film, "Borrowed Time," which she wrote, directed, and co-produced, is based on a true story that happened to Ginevra in 2008. A tale of loss and growth between three generations of women, it's a film she's wanted to make for a long time and the first one she has ever made based on a true and personal story. "Borrowed Time" is a short drama centred around grief and the silence that too often comes with it, by a majority female crew and starring Olivia Donati Clarke, Heléna Antonio, and Suzanna Hamilton. The production encountered many challenges, including rescheduling the shoot due to COVID. The film was officially finalised in February 2022 and is waiting for its festival premiere.
Tell us what's wrong with this post? How could we improve it? :)
Let us improve this post!