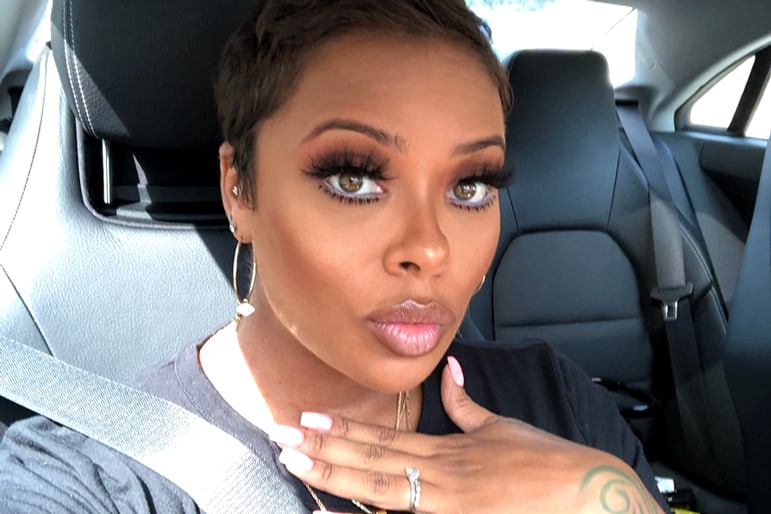 It's simply too easy to condemn people for finding out one thing about a person without finding out more about them. Eva Marcille is one of those that you might look at askance for a few things that she's done or said in her life, but if you really look into who she is, what she's done, and what her character is really like, well, you might still have your own opinion but at least it would be better informed. If you haven't heard of her then it's not hard to understand if you've never watched America's Next Top Model, but if you have then you've likely seen her in a few different locations throughout the years. She did have somewhat humble beginnings but as you can see now she's risen quite a ways to enjoy the good life and a reputation that has been building for several years.
Here are a few things about Eva you might not have known.
10. She's part of the Real Housewives of Atlanta cast.
Initially she was just a recurring guest character, but she was made a part of the cast at one point. This is undoubtedly one of the reasons why some people would take a look at her life and say that she's just another rich housewife that is cashing in on her reality status.
9. Eva has a very big following on social media.
Her followers number in the millions and as you can imagine she's probably only on social media for a short part of her day since it seems as though she's a rather busy woman. Sometimes a few posts and tweets is all that's really needed for the millions of fans that want to know what's going on.
8. She worked in a department store before landing a spot on America's Next Top Model.
If you've ever worked in a department store, in retail for the most part, then you know that it's not exactly a glamour job and is kind of a soul-draining experience that can really bring a person down, no matter that it has it's upsides too. But it would seem that Eva was definitely ready to move on when she earned her spot.
7. Eva refuses to allow pictures of her being taken on cell phone cameras.
This is one thing that seems to put her in a bad light since it does make her sound just a little bit vain considering that many celebrities, and many that are much more well-known that she is, don't generally balk when it comes to meeting with fans for a selfie.
6. She was admitted in Vanderbilt Law School.
Eva isn't a dumb woman by any means since she's is quite educated and has been seen to follow very worthwhile goals when it comes to her acquisition of knowledge. If you know anything about how hard it is to get into law school then you know that it's not just a hop, skip and a smile to be admitted.
5. Eva has been a part of reality TV and fictional TV as well.
Honestly this kind of helps her credibility since she's been in fictional TV as well as reality shows and therefore has been able to jump the gap a few times and really put her acting skills on display. There's only a few reality stars that have ever done this, not counting the WWE, so it does seem that she has some honest to goodness talent.
4. She did leave school after winning America's Next Top Model.
Her modeling career seemed to take precedence since it was the more assured path at that moment, which is easy to agree with and respect since continuing on with school is admirable but is not a guarantee of employment and therefore is more of a risk. But winning a show like Top Model is something that seems to give a woman an easy path towards a contract that will get them paid without question.
3. Eva dropped her legal last name at one point.
Her legal last name is Pigford and as you can guess it doesn't really seem like the type of name that would get her noticed as much. So it was because of this, in part, that she dropped her last name and went with her middle name as a surname instead. It does roll of the tongue a lot easier than Pigford, and seems a little, well, a lot more elegant when thinking of a model.
2. She's stated that she didn't use her modeling career to get her acting roles.
This seems kind of hard to believe since her modeling likely had something to do with her at least being noticed for her acting roles. It might not have been the reason that she actually got the roles, but it likely had something to do with it.
1. Her net worth is around $3 million.
This seems kind of low for a model, but then again it could be that she hasn't done quite as much as others and therefore hasn't gained the same kind of worth.
It's all a matter of opinion what you think of her, or anyone for that matter.
Tell us what's wrong with this post? How could we improve it? :)
Let us improve this post!