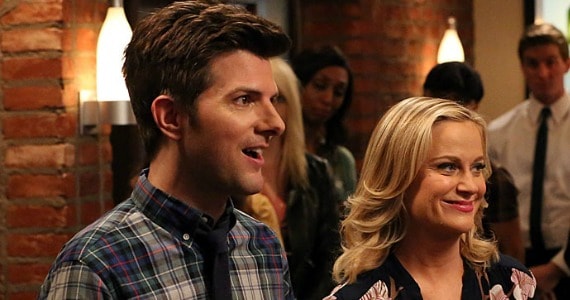 It is very sad news that Parks and Recreation will be ending its amazing seven season run this year. The NBC comedy, which debuted back in April 2009, starring Amy Poehler will begin airing fresh new episodes on Tuesday January 13th at 8 PM. This will be a big change for viewers who were used to seeing the series on Thursday nights. The network will air back to back episodes every week with the series finale airing sometime in February. This season will be a short one with only 13 episodes, but still expect a season worth of hilarity. We at TV Overmind decided to research this awesome series (We even watched a few dozen episodes) and find some interesting facts our readers may not already know. So here are 10 fascinating things you may not know about Leslie Knope, Ben Wyatt, Ron Swanson, and the rest of the gang from Parks and Recreation.
1. Andy Dwyer wasn't intended to stick around
When Parks and Recreation debuted in April 2009 the character Andy Dwyer was the annoying and intellectually challenged boyfriend of Ann Perkins. Chris Pratt, who plays Andy, was only intended to stay on the series for the six episode first season. The producers liked Pratt's enthusiasm and comedic humor and kept his character on the show. Since he was no longer dating Ann, the writers had him start working at the city building as a shoe shiner and then become the love interest of April.
2. Nick Offerman also liked woodworking
Many television shows like to incorporate talents of their cast into the characters that they play. The same holds true on Parks and Recreation. The character Ron Swanson enjoys woodworking and has created many things on the show. Nick Offerman has been an experienced woodworker for many years and runs a business devoted to the craft when he is not working on television series or feature films. He even made a video about how to build a canoe that can be purchased at Amazon.com for $29.95.
3. Originally intended as a spin-off of The Office
During early development stages for Parks and Recreation it was planned to have the series be a direct spin-off of NBC's very popular comedy series The Office. Executive Producers Greg Daniels and Michael Schur worked on the Steve Carell workplace comedy. The show ended up being redesigned but the "mockumentary" format that made The Office so popular stayed intact.
4. Many famous people auditioned for roles
Parks and Recreation could have been a totally different show had some of these other actors won the coveted roles of some of the series' characters. Ellie Kemper auditioned for the role of Ann Perkins, which ended up being played by Rashida Jones. The producers liked Kemper and eventually cast her as Erin Hannon on The Office. Oscar winner Octavia Spencer tried out for the role of Donna Meagle and Thomas Lennon auditioned to be Ron Swanson.
5. Maps of Pawnee are of an actual location
Though the city of Pawnee, Indiana on Parks and Recreation is fictitious, the maps of the city that can be found in the city building are real. The maps are of the city Christchurch, which is located in New Zealand. Many names of roads, rivers, and locations are changed. For example, Avon River flows through the city of Christchurch was renamed the Pawnee River and Hagley Park is known as Ramsett Park on the series.
6. Ann Arbor is mentioned for a reason
You may wonder why the city of Ann Arbor, Michigan is mentioned so frequently on Parks and Recreation. The answer for that is simple. Aside from Ann Arbor being a close distance from fictional Pawnee, Indiana, Executive Producer Michael Schur was born in the city. He was later raised in West Hartford, Connecticut. The city of Pawnee was founded in 1817, which is when the University of Michigan located in Ann Arbor was also founded. Ann Arbor is where Ann and Chris move to during season six.
7. There is a reason why Jerry has a perfect family
The characters on Parks and Recreation were shocked to find out that Jerry Gergich has a beautiful wife (played by Christie Brinkley) and three equally beautiful daughters. The entire cast and crew love Jim O'Heir, the actor who plays Jerry, and they hate how poorly they have to treat his character sometimes. It made them feel better knowing that he gets to go home to a super model every night after being tormented for 8 hours a day in the Parks Department. Additionally, Jim O'Heir auditioned for the role of Ron Swanson.
8. The series has never been a ratings winner
The first season of Parks and Recreation was rough. The series was restructured for season two to make Leslie Knope appear more intelligent and offering more government type stories than just a story surrounding the making of a park. The changes worked and the show became a hit with the critics. Sadly, the show has never proved strong in the ratings, though it does far better on DVR recordings and on streaming sites like Hulu. The first season averaged 6 million viewers and has declined every season since, though there was a slight uptick in viewers during season three.
9. Characters are based on actual city officials
When the producers began researching city government for the basis of Parks and Recreation, they headed right to city council meetings that were held in Los Angeles. While they were in attendance, they observed many disgruntled citizens voicing their opinions about issues being discussed. This concept would happen frequently on the comedy. The inspiration for Ron Swanson came from a government official who told Michael Schur that he did not believe in the mission of his job.
1o. Improvisation is encouraged
Many TV shows and movies have recently been encouraging of their casts to improvise their lines at times. The same holds true on Parks and Recreation. Many of the jokes that Amy Poehler, Chris Pratt, and the rest of the actors come up with are used on the episode that is aired on TV. One of Poehler's favorite scenes is when Chris Pratt had to talk about the movie Road House. The only thing mentioned in the script for this scene was: Pratt talks about Road House. 35-40 minutes of footage is shot for each episodes and then trimmed down to 22 minutes, so much of the footage is never seen. The pilot episode was 48 minutes long before being edited.
What is an interesting fact you know about Parks and Recreation? Let us know in the comments section below.
[Photo via NBC]
Tell us what's wrong with this post? How could we improve it? :)
Let us improve this post!