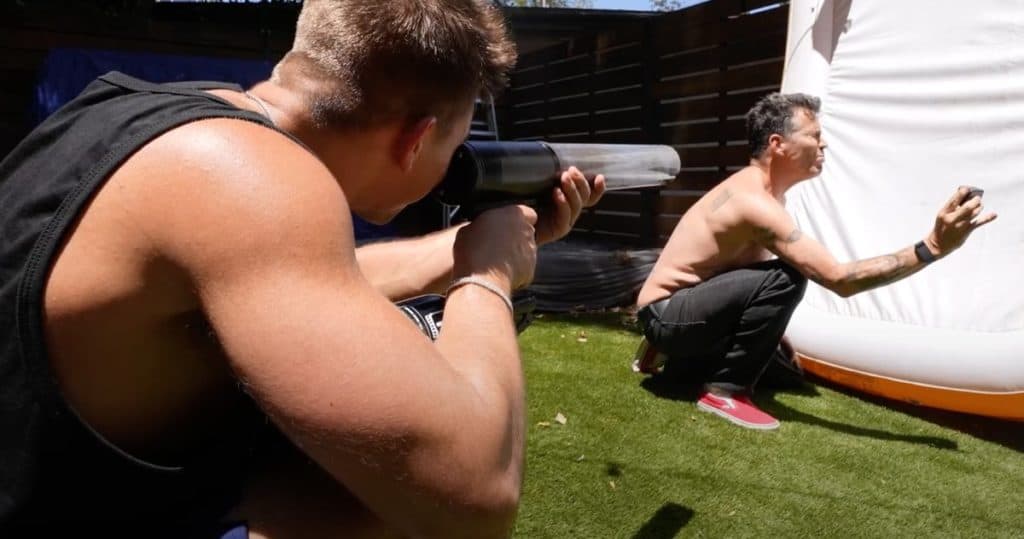 Think about how bad a stunt has to be if it gets rejected from Jackass, a show that's absolutely known for doing the most outlandish and insane, not to mention disgusting, stunts possible. Now think about this, poor Steve-O usually takes on some of the worst and most revolting stunts out of the bunch. One can't really say that any of the Jackass boys are too bright when it comes to not taking care of themselves on camera, but they've made a fortune on injuring themselves in various ways. This one though, it's fair to say that the stupidity level is something that is making even Steve-O wish that time travel were possible. If it was he might go back and tell the Nelk Boys, who he shot this stunt with on YouTube, that he was out and that they could find someone else for the poo cannon that has now damaged the middle part of his ear. It's very easy to look at everything the Jackass crew has done and wonder 'why?' even as the money was likely rolling in. There are other ways to get famous without permanently damaging your body after all.
But the fact is that the Jackass crew came on the scene with a force that was hard to resist since some of their stunts were pretty funny even if they were enough to make a person's jaw drop as they wondered why in the world anyone would do this to themselves. But when the Jackass crew wouldn't even okay this, then it should have been deduced that this wasn't a good idea. It really depends on what the psi of the air cannon is and what the consistency of the poo is. I won't go into further detail since it's already pretty gross. But the average t-shirt cannon operates at 60 psi to launch a shirt, which at close range could hurt quite a bit since a human body can take up to about 50 psi when it's a sudden impact. But there are a lot of factors that go into this idea, such as being able to roll with the hit, and not necessarily sitting there waiting to take it. At the range we're seeing in the picture and with the force that the cannon is using, it's easy to think that everyone involved should have backed up and said 'whoa, not a good idea'.
But of course this didn't happen, and Steve-O had to head to the hospital to have his ear canal cleaned out, and possibly explain how this happened. Given that he's likely been to the hospital more than a few times over the years, he's probably used to that part. One can't help but shake their head at this kind of thing and wonder when it's going to be enough, and when the Jackass crew will realize that brutalizing their bodies for entertainment isn't doing much other than wearing them down that much quicker. Some would say that it doesn't matter since they're making money off of it, but money doesn't do much good if a person can't spend it due to constant medical bills or the inability to get up and go do anything for weeks at a time in order to heal.
That might sound a bit dramatic, but the reality of it is that every individual on the Jackass crew has gone through some type of physical and possibly mental trauma over the course of the show and then the movies. Listening to all of the injuries that they've incurred and all of the trauma that's been endured is enough to make a lot of people feel that this just isn't worth it and that the guys should be seeking retirement here very soon. Johnny Knoxville has apparently stated that this coming Jackass movie will be the last since there's no telling when they'll do something that can't heal or be mended, and that makes a lot of sense. But after seeing everything that's been done to this point one has to think that the cast of the movies aren't exactly right in the head and haven't been for a very long time. Even without any further drug or alcohol problems, apart from at least a couple of cast members, it's fair to say that common sense should be kicking in eventually.
Hopefully Steve-O didn't damage himself too much, but when taking a loaded air cannon of dog poo to the ear it's a good bet that nothing good will come of it, no matter how much one wants to get paid. This is why it still needs to be stressed to anyone and everyone that watches these movies to not try this at home since it doesn't matter if a person's trained or not, these stunts can cause a great deal of irreversible harm.