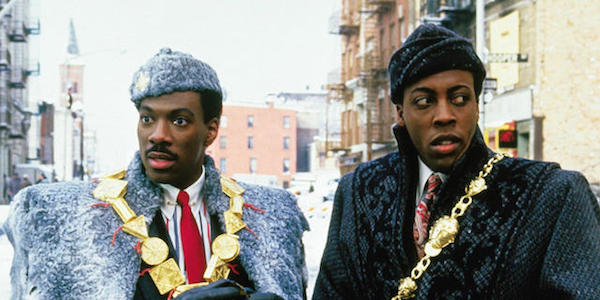 People really believed that Zamunda was a real place for a while, at least until they looked on the globe and saw it wasn't there. But give the movie props, it came through in a big way and made a comedy that was worth watching and delivered laughs almost nonstop. This was when Murphy was still allowed to be himself and hadn't yet gone to family films. The filter was off as much as it could be in order to keep this film within reason, but the comedy was spot on and the characters were one of the highlights of the movie. The idea of an African prince making his way to America to find his true love was a bit stretched, but it produced some great results.
Plus, pairing Arsenio with Eddie Murphy was great.
10. This is the first time that Eddie Murphy played multiple characters.
If you watch throughout the film he plays a rather extensive list of characters, all of whom have their own distinct personality.
9. The McDowell's used was actually a Wendy's.
Despite getting permission from Wendy's the production crew was approached by a representative from the McDonald's down the street and were threatened with a lawsuit.
8. The name of the country was taken from a Richard Pryor act.
Eddie Murphy has always been a big fan of Richard Pryor so it's no surprise that he would take a cue from one of his acts.
7. The homeless men that Akeem gives money to are the Duke Brothers from Trading Places.
You can see the look of recognition in their eyes as they look at Akeem, but of course he has no idea who they are.
6. Murphy and the director didn't get along during this film.
In fact Eddie Murphy swore he'd never work with the director again, but eventually they made amends.
5. It was the director's idea to dress Murphy up as a Jewish man.
The director figured it was payback for Jewish actors dressing up in blackface long ago.
4. This is Cuba Gooding Jr.'s first film appearance.
He was the young man in the barbershop getting his hair cut. He even had a deleted scene that didn't make it into the movie.
3. There was a sitcom based on this movie.
The show starred Tommy Lee Davidson who would later go on to star on In Living Color.
2. The football game that Akeem mentions to Mr. McDowell actually happened.
The Packers won 23-20 during the game that played in 1985.
1. It had a different title to begin with.
Originally it was called The Quest.
There was a lot more meaning to this film than just the comedy but thankfully the comedic parts were there so that the drama didn't take over. It was the kind of story that was mean to show that one's station in life does not define them where matters of the heart are concerned. For all intents and purposes it was a romantic comedy and nothing more, but it served its purpose and became quite a memorable movie.
Tell us what's wrong with this post? How could we improve it? :)
Let us improve this post!