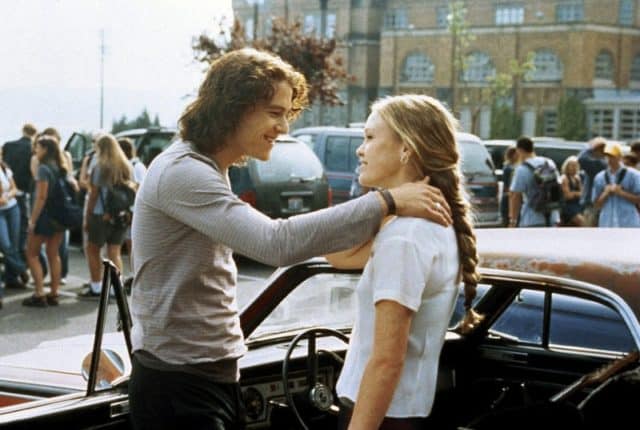 The film was actually a very loose adaptation of William Shakespeare's The Taming of the Shrew, and did in fact reference Shakespeare and the play several times throughout the film. As a romantic comedy it was a fairly big hit and it's become a cult classic since. A lot of teens actually grew up to this movie and could easily relate to and enjoy they characters that were more or less immortalized in pop culture.
Here are a few things you might not know though.
10. The film's title was inspired by one of the screenwriters.
One of the screenwriters just happened to find an old diary in her things that listed the many qualities she hated about her ex-boyfriend. That's what inspired the name of the film.
9. This was Julia Stiles' first onscreen kiss.
There are still people that don't just go out and hook up with anyone and everyone to become experienced. Stiles at least got to kiss a budding legend onscreen.
8. Julia Stiles was really crying while she read her poem.
The tears that she managed to produce near the end of the movie during the reading of her poem were completely real and unscripted. It definitely gave the film a more emotional punch than it might have had otherwise.
7. Stiles is only a few months older than her onscreen sister.
In the film Kat is a full two years older than Bianca, but in reality they're only months apart. It's strange though since thanks to the film people tend to perceive them as being very different in age.
6. In the original script Kat and Bianca's mom was still around.
The original script called for their mom to still be in the picture. But it was later thought that the reason for Kat's defiance could be attributed to the fact that she and her sister are being raised solely by their overprotective father.
5. This was Heath Ledger's first time in American film.
Coming from Australia he was already a rising star, but once he got to America his stock only went up and up as he continued to land blockbuster roles.
4. Thanks to the dance scene Julia Stiles got her role in Save The Last Dance.
At the time it wasn't something you would have expected from the character, but once she got a few drinks in her she loosened right up and became the life of the party. This part of the movie is also what landed her the lead role in Save The Last Dance.
3. Joseph-Gordon Leavitt's character learned French in the movie, but he was already fluent.
The character learned French to impress the girl of his dreams, which might have worked. Of course it could have just been the gesture.
2. David Krumholtz was also in The Santa Clause.
Remember Bernard in The Santa Clause? He's showed up in a lot of productions to be honest, mostly as the supporting actor.
1. Ashton Kutcher and Josh Hartnett were also considered for Ledger's role.
They might have been considered but they really didn't have the edgy, gritty feeling that Ledger brought to the role.
So did you happen to know any of these facts?
Save
Tell us what's wrong with this post? How could we improve it? :)
Let us improve this post!