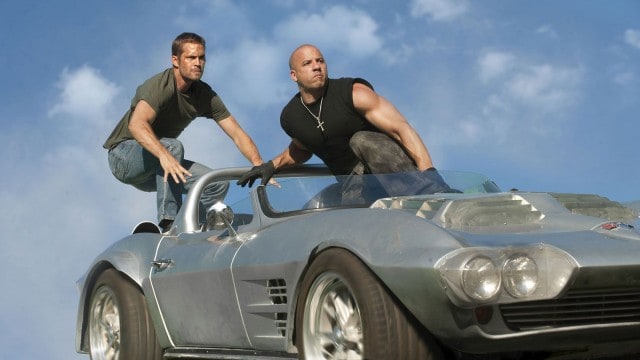 There are a select few movies where the stars don't do much acting. They don't fight, they don't cry, they don't yell, and they don't display any emotion at all. No, I'm not talking about the new Star Wars movie and what's going to be another billion dollar Avatar. I'm talking about car movies.
And it's not like the actors weren't there or doing their jobs. That's far from the case. It's just that in these ten films, actors were completely overshadowed by the autos they drove, and that's not necessarily a bad thing. And NO we're not including the animated movie Cars. We're talking legit car movies here. So enjoy the list!
1) The Fast and Furious – All of them

Did the original movie make me buy a $600 cat-back exhaust system for my Ford Focus? Absolutely. Am I glad I didn't end up getting those racing stripe vinyls I wanted? You bet. The initial appeal of these movies is to see fast cars go fast, but after you come for the nitrous, you stay for the dialogue. How many young teens heeded that sage advice from Ja Rule, "One of the things that we knows is, it's not how you stand by your car, it's how you race your car!"
2) Bullitt (1968)
Just because a movie came out over thirty years ago, that doesn't mean it's good, and Bullitt is not particularly good. Yes, it's got Steve McQueen, who is awesome, but the story is just rather, eh. But the movie is a classic, and it's for one reason only, the green Bullitt Mustang. The car was a character in itself, and has been replicated by Ford in many iterations over the years, although none have lived up to the original.
3) The Transporter (2002, 2005, 2008)
The movie is technically about the guy IN the car, but whatever, we just want to see cool car tricks. The Transporter series is more or less one really, really long BMW film (remember that old Clive Owen project? yeah), with the mission to get from point A to point B and not die. Each Transporter features a more ridiculous car stunt that the previous one. In the first movie, the car lands on a flatbed truck, in the second, it does a corkscrew knocking a bomb off of it's undercarriage, and lastly, it drives full speed on the top of a moving train. I expect rocket boosters to be involved in Transporter 4.
4) American Graffiti (1973)
Why can't life be like this again? Just cruising up and down the street with several hundred of your closest friends, not having a care in the world besides flirting with the girls next to you or leaving a rival's car in the dust. But sentiment aside, there were some truly wicked cars in the movie, most notably one beautiful girl driving one very elusive '56 Ford Thunderbird.
5) Speed Racer (2008)
Did anyone come to see Speed Racer for the plot, really? Kid races against evil in order to do something or other. There. Now onto the racing. The psychedelic car on car death matches were the only reason anyone bought a ticket for this movie, either that or out of a twisted sense of nostalgia, clinging to the hope that a Wachowski Speed Racer would be anything at all like the original Hannah Barbara cartoon. Say what you will about the narrative structure, but these twisting turning tripping car races were one of the most stellar spectacles to ever hit an IMAX screen.