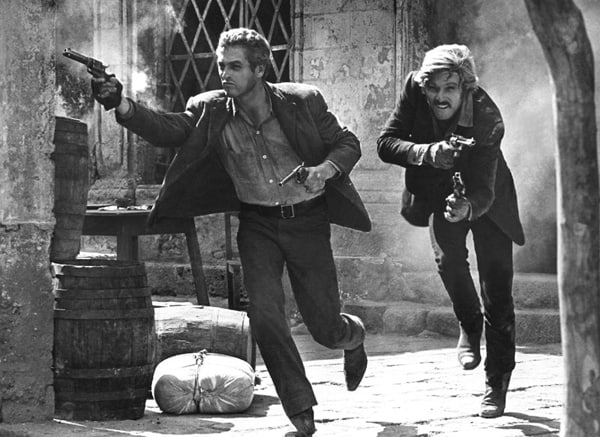 In slang terms a "jump scene" is actually referred to as a scene that makes you "jump" out of your seat. You know, the kinds of scenes that scare you. For example a loud phone ring that you didn't expect in a horror movie. Well that's not the kind of jump scene I'm referring to here. I'm referring to actual jumping scenes where the characters are making pretty big and risky leaps off of cliffs, planes, you name it. It's such a defining moment for a character when they are faced with that brutal decision of potential death by jump or potential death by an enemy.
Then again, there are just some pretty insane jumpers who don't care about anything. Here are 10 awesome jump scenes in movies.
Butch Cassidy and the Sundance Kid
It's at minute 2:55
The Fugitive Dam Jump

I didn't kill my wife. I don't care!
The Frisco Kid
I couldn't find any exact scenes on Youtube but it's the one where Harrison Ford and Wilder are fleeing from a posse and they jump similarly to Butch Cassidy and the Sundance Kid. Wilder yells a superlative like his Southern Counterpart and Ford yells "Oy Guvalt!" like his Jewish Counterpart.
No Escape
There's a tiny bit of it in this trailer. It's pretty intense.
Apocolypto
One of the best "chase" movies I've ever seen.
First Blood
Unfortunately this is the best I could do but for those who have seen this movie you know exactly the scene I'm talking about.
Point Break
Reeves is pretty insane. He dives without a shoot.
The Game
This is just a great scene.
The Lost Boys
Napoleon Dynamite
Come on, I had to throw a funny one in there!