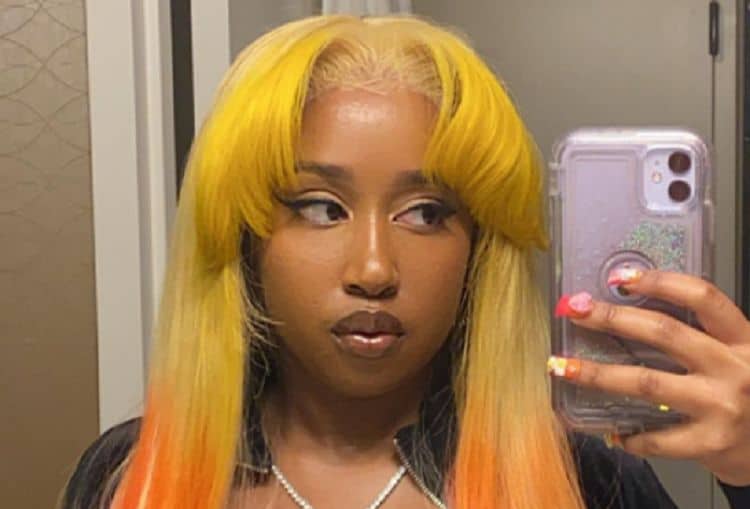 Every once and a while there's an artist that pops up out of nowhere and takes the world by storm. This year, Yung Baby Tate is one of those artists. Although it's not entirely fair to say she came out of nowhere, because she's been working hard for years, Yung Baby Tate has definitely surprised a lot of people with her creativity and one-of-a-kind approach to music. After taking some time to regroup after the release of her debut album in 2019, Yung Baby Tate is here to change the game and she's already earned the respect of lots of people within the industry. If you haven't heard any of her music yet, that probably won't be the case for much longer. Keep reading for 10 things you didn't know about Yung Baby Tate.
1. Both Of Her Parents Are Musicians
If you believe that it's possible for musical skills to be passed down from parent to child, then that was most certainly the case with Yung Baby Tate. Both of her parents have had successful careers in the music industry. Her mother, Dionne Farris, is best known for being a member of Arrested Development. The group is responsible for the hit single "Tennessee" which was released in 1992. Tate's father, David Ryan Harris, is a singer/songwriter.
2. She's A GA Native
Tate was born and raised in the Decatur area and she's very proud of her southern roots. She grew up listening to well-known artists from the area such as Gucci Mane and Atlanta. Although her sound doesn't follow the traditional style of southern hip-hop, Georgia has a big influence on her sound.
3. She Isn't Afraid To Move Between Genres
There was once a time when people in the music industry were encouraged to pick one lane and stay in it. In more recent years, however, it has become more acceptable for artists to try different things and this is something Tate appreciates. Tate told Hello Giggles, "I'm phasing into singing more than rapping. The next project will reflect that."
4. She Likes To Style Herself
In the entertainment industry, it's very common to have a professional stylist put an entertainer's looks together, but that's not how things go in Yung Baby Tate's world. During an interview with OkayPlayer, she said, "My personal style is extremely important to me. Unless I'm acting as someone else, I really can't allow someone else to style me. I've had some stylists try to put me in some heels and some grown and sexy clothes, and I'm like, "I'm Yung Baby Tate, I don't know what you're doing but this makes no sense." My personal style is me and I can't walk around like someone else and still try to be me, it's confusing and messes with my spirit."
5. She Wants To Make Girls Feel Safe Through Her Music
As a performer, one of Tate's goals is always to entertain, but that isn't the only thing she wants to do with her music. She's all about empowerment, especially for women, and that's something she hopes to convey. More than anything, she wants her music to make girls feel safe and understand that they can be themselves.
6. She's Signed To Issa Rae's Record Label
For much of her career, Yung Baby Tate was an unsigned artist handling business on her own. In 2020, however, she announced that she was making a major career move. She signed to Issa Rae's record label, Raedio. Not long after, two of Tate's songs were featured on the soundtrack for Issa's show, Insecure.
7. She Likes Being A Role Model
There's always been a lot of debate about whether celebrities have the responsibility of acting as role models to their young fans. While many stars have outright said that they should not be seen as people to look up to, Tate feels the opposite. She welcomes the responsibility of being a role model and tries to stay mindful of the fact that she has the power to influence many young girls.
8. She Has More Than Vocals
At this point in her career, Tate is best known for her rapping and singing abilities. What most people don't know, though, is that her musical talents extend beyond that. She can also play the piano, make beats, and dance. With everything she can do there's no doubt she's going to be around for years to come.
9. She Isn't Afraid To Speak Her Mind
There are plenty of people in the industry who walk on eggshells because they don't want to do anything that could potentially hurt their careers. But Tate is the kind of person that is going to stand up for what she believes in regardless. Through social media, she has been very vocal with her stance about things such as sexual harassment.
10. She Hopes To See More Dark Skinned Women Represented In The Industry
The music industry has come a long way in terms of diversity, but there's still lots of room for improvement. One of the things Tate wants to see is more diversity in the representation of the Black community. While talking to Revolt she said, "I want to see more brown skin and dark skin female rappers at the forefront. Not just in rap because I'm not just a rapper, but in music in general."
Tell us what's wrong with this post? How could we improve it? :)
Let us improve this post!