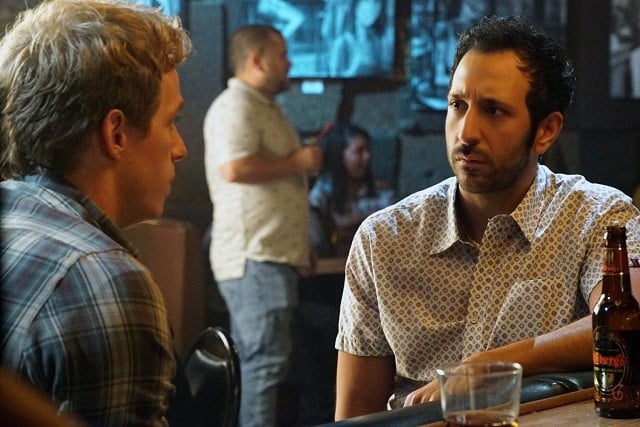 With the question "Where's Gretchen going at night?" dominating the minds of You're the Worst viewers after last week's episode, it's no surprise how hard it can be to focus on the little moments of "We Can Do Better Than This," especially considering the three divergent plots it explores. However, isolating the members of the Sunday Funday crew proves to be a smart move for You're the Worst: it marks a return to simplicity for the first time in awhile, returning to Season 1 rhythms where Jimmy is struggling with his career, Edgar is trying to branch out in life, and Lindsay and Gretchen are talking about boys. If there's a "classic" format to a show that's only been around for 18 episodes, "We Can Do Better Than This" is it, a wonderful, if completely fragmented, template for You're the Worst.
These stories are all ostensibly about people searching for new directions, but all of these stories take very different tones, given where characters are emotionally this season. Centered on Jimmy's futile attempts to novelize the complex world of NCIS: LA, "We Can Do Better Than This" expands on the idea of challenging self-definition in its Edgar and Lindsay/Gretchen stories, subtly reflecting Jimmy's own frustrations in interesting ways. Jimmy's spent his entire life – since writing his first erotic novel at 11 – considering himself to be a literary savant, an image that's beginning to crumble with the admission that he's a "one not such a hit" wonder, and might not be the creative mastermind he once thought he was.
Similarly, Gretchen and Lindsay find their sense of feminism challenged when they realize all they do is talk about boys. Of course, this leads down a totally different path than Jimmy's story, but the thematic underpinnings are still strong: it's a story about identity, and both Jimmy and Lindsay find value in adopting different personas for a day, even if they both do it to mixed results (Jimmy ends up with a complicated story board that makes no sense, and Lindsay just attributes everything to Benghazi and the "Keystone Xbox pipeline"). This is more of a nonsensical story, with Lindsay channeling Smatthew from NewsRadio, and she and Gretchen torturing the poor fro-yo shop employee once again – but underneath those jokes is the singular search for identity through redefinition, which carries over to Edgar's story, as well.
In terms of sheer plot, Edgar's story is probably the heaviest: he gets a new love interest with improv class leader Dorothy (a wonderfully cast Collette Wolfe) and a jealous enemy in Tall Nathan (welcome back, Echo Kellum!), who affects his relationship with Lindsay when he responds to a text she sent Edgar, making her think Edgar wants nothing to do with her anymore ("New number. Who dis?" is the exact text). If there's any overcrowded story in this episode, it's Edgar's, and yet seeing him have some actual romantic conflict in his life is potential for some deeper character exploration, which I've really been missing since we saw his struggles with heroin and PTSD in the mid-to-late section of Season 1.
Despite three plots that are wildly different on the surface, the existential underpinnings are the same: the SF crew are looking to redefine themselves in the face of various failures – or in Gretchen's case, apparently preparing themselves for when their worst selves come to the surface. After an episode of uplifting, mostly weightless comedy, "We Can Do Better Than This" comes crashing down in its final two scenes, as heartbreaking (and emotionally manipulative) a pair of scenes as one could possibly muster.
After a wildly adorable scene where Jimmy reads Gretchen his erotic novels (featuring the best vibrator sound effects you've ever heard), the episode closes to Gretchen sneaking off in the night once again, set to this beautiful, haunting song. The stronger Jimmy and Gretchen's relationship gets, the more they're ignoring the reality of the situation. This fact is compounded when we see Jimmy awake, listening and watching as Gretchen "sneaks out": at this point, they both know Gretchen is doing something, and both are too afraid to come out and admit it. They're having fun, and when things are fun, it's easy to overlook the deep flaws and cracks forming in a relationship. If these two don't find themselves in time, they're going to sabotage the fragile union they've formed – and they both know it, knowledge that creeps into both their faces in the final scene, and closes what might be the funniest episode of the season off on an ominously tragic note. As the song playing over the credits notes, "Only this road lasts as long/'till you find you're on the run," a telling line for where You're the Worst is emotionally as it enters the second act of its sophomore effort.
Other thoughts/observations:
Yes, Edgar, I WILL be grading this episode. Shout out to series creator Stephen Falk for calling out his TV recapping past at Television Without Pity.
"Post partum murders are so basic." Lindsay is on fire in this episode, and I'm not just talking about the glasses look.
Neil Gaiman's writing the novelization of the dragon with a roller coaster for a tail, which I would love to read.
How is Jimmy going to bring his heckling cheat sheet with him to the improv show, but no mustache?
Lindsay's mothering skills: "Wear that skirt, don't blow that boy, this is pizza."
The fake rap war continues to rage; this week, Sam told all his fans to murder Sh*tstain and Honey Nutz… in World of Warcraft.
"The Lone Vulva" sounds like a fantastic Western series.
Someone please put Lindsay saying "beer cooze's hand p*ssy" on a loop and send it to me. Please and thank you.
[Photo credit: Byron Cohen/FX]
Tell us what's wrong with this post? How could we improve it? :)
Let us improve this post!