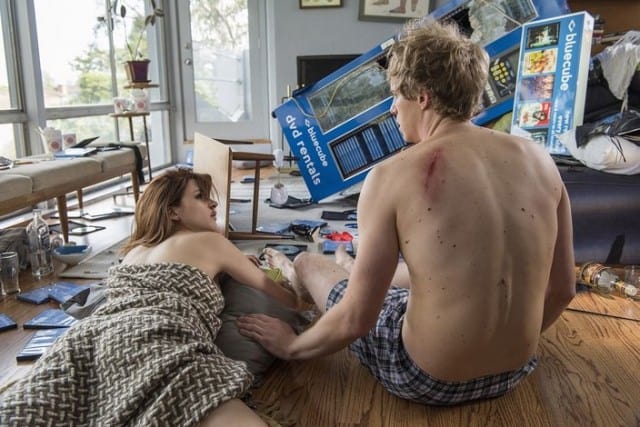 You're the Worst was far and away the best new comedy of 2014, subverting the rom-com genre by coating everything in a layer of cynical narcissism, while still leaving room for the subtle exploration of two people trying to find their way together in the universe. In the year since its debut, many people have mislabeled You're the Worst as a pessimistic show, one with an underdeveloped emotional palette and a collection of thoroughly anarchistic characters. The title really explains it all: You're the Worst is not just something Jimmy and Gretchen said to each other at Becca's wedding in the pilot, an aside meant to remind us of how they met, or how much they hate the idea of loving each other. Rather, You're the Worst suggests a sense of fear, the modern tendency to deflect our deeper emotions with a joke or an insult. This is a show about two people learning how to love again as adults, picking up the pieces and not letting the fear of being alone consume them.
"Sweater People" is a triumphant return for You're the Worst. The last few episodes of Season 1 unpeeled the show's icy cynicism to reveal the raw emotional nerves people were trying to hide, and the hope that hid underneath all the emotional baggage these characters carry. Lindsay's marriage fell apart when Paul left her, Edgar's infatuation (and my own) with Lindsay found new heights – oh yeah, and Jimmy and Gretchen decided to move in together, albeit reluctantly. And that's really what the show is as a whole: two people kicking and screaming their way through the beats of a romantic comedy, trying to fight against their human nature to seek connection with others (and their inherent fear of rejection) under a layer of thinly-veiled sarcasm and arrogance – save for Edgar, because he's just a sweetheart.
It's no surprise Season 2 begins with Jimmy and Gretchen in the middle of a week-long party binge. "Settling down" and becoming Lindsay and Paul is the most frightening idea in the world to both of them, so frightening they're willing to try a synthetic Belgian animal tranquilizer in their attempts to avoid becoming the titular creatures of the episode. This slightly-meta point of view about romantic comedies really encapsulates the philosophies (and priorities) of the show. The last few episodes of Season 1 were about revealing that You're the Worst really is a romantic story, just one that operates closer to the boundaries of our own reality (though Jimmy can steal a Zoiddle View street car on video without getting arrested, so we're speaking reasonably here).
See, what romantic comedies in American culture always forget is how messy life and human emotions are. When the ex steps into the scene, he's given a one-note character whose only existence is there to explain just how "wrong" that person was for the main character's love interest. In real life, exes are a lot more complicated: shared life history breeds such uncomfortable problems, especially in a world where social media can keep us connected (or at least, with the possibility to connect) to people we've loved for years after we've stopped seeing them. More importantly, break-ups after the age of 25 are a lot more complicated, and because of that, the recovery from it is a lot harder. Going through a break-up after a long-term, adult relationship is an emotionally challenging experience, even if it's not a marriage, and the fear and anxiety that come around the next time love comes knocking on the door can be utterly terrifying.
Rather than be paralyzed by their fears, Gretchen and Jimmy hope to avoid the complications of building a life together by indulging in the most short-term activities they can, getting really drunk and drugged up, then doing "butt stuff" (on Lindsay's suggestion) and other fun things, like stealing a DVD rental kiosk or driving a street-mapping vehicle into the woods half-naked. As the episode illustrates in one of its final scene, the two of them eternally afraid of settling down, and while "Sweater People" doesn't explicitly define why, previous episodes speak to this emotional conflict. Jimmy wanted to marry Becca at one point remember, so it's no surprise he's afraid to enter that vulnerable place again, and while we don't know the same extent of Gretchen's failures in her love life, it's clear enough to see that the damage has been done.
I really love that You're the Worst is tackling this idea with the two living together. It raises the stakes of the situation, forcing Gretchen and Jimmy to constantly face the biggest fears they have in life when it comes to trusting other people. It's just another reason why they kind of do belong together (again, You're the Worst is about subverting rom-com tropes, not completely rejecting them – their f-ed up logic is beautiful). There's nobody else – besides maybe Lindsay, who is learning a little more about love every day – that can help them through their problems but each other, facing the fears, frustrations, and compromises that every couple has to make when they move in together, and there's literally nowhere to hide the emotional skeletons anymore.
"Sweater People" might not be the most emotionally affecting or openly hilarious episode of You're the Worst, but for a season premiere, I couldn't imagine it being much better. There's jokes about Police Academy films, plenty of talk about Edgar cooking, and, most importantly, a reinforcement of the show's logic and how it approaches its modern ideas about love and connection. You're the Worst is the rare combination of intelligent comedy and sincere exploration of human emotion and, as last night's season premiere reaffirms, one of the best shows on television.
Other thoughts/observations:
– Welcome to You're the Worst reviews!
– Aya Cash is a goddess, and I don't know how she isn't one of the biggest comedic actresses on the planet right now. Just sayin'.
– Edgar has a job at the gym!
– "You have silly things in your vocabulary as well." "Like what?" "… American exceptionalism."
– Paul's sex scene is horrifying, save for the cutaway shot to Lindsay making a perfect circle with her hands. Brilliant shot.
– Oh, poor Jennifer Gardener – what will she do without Ben Affleck?
– "You're usually yelling 'get to the chopper!' or 'I didn't know it was a school'!" "… I didn't know it was a school." Darkest joke of the episode.
– Head wiggles!
– "Do I look like a Fitbit?"
– Aww, Sh**stain and Jacqueline are going to settle down. Please tell me the season finale is at their wedding.
– Another glimpse into Gretchen's past: she first did drugs at the ripe age of 9.
– Great use of Bushwalla's "Gangsta" in the gas station convenience footage.
– Lindsday's plan to get pregnant could lead to forty thousand types of havoc this season, and I can't wait to see where this goes.
[Photo via FX]