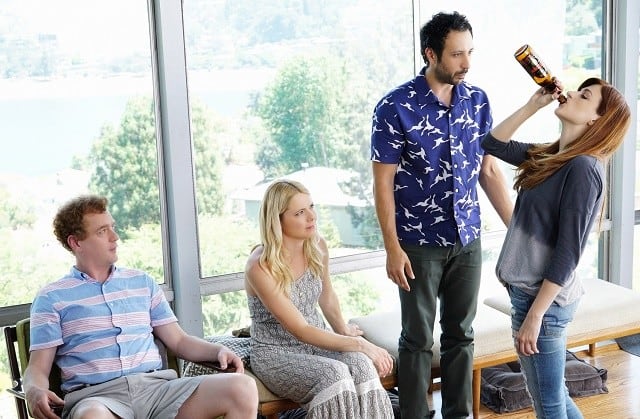 Moving in with a partner is an frightening proposition. Sure, there's the excitement of beginning, sharing, and ending each day with the person you love, the symbolic gesture of "building a home" together; there are plenty of benefits to living with a partner, and not just the ability to split the rent bill in half. However, all those benefits are nothing compared to the scary idea of having to share everything with someone else (expressed poignantly by both Jimmy and Gretchen during You're the Worst's first season finale). After all, there's nowhere left to hide anymore, and eventually, the worst of ourselves we try to hide comes to the surface.
I'm not talking about shower habits, cleanliness, or sleeping routines. The most difficult part about living with someone else is truly opening up to them. Fear, anger, disappointment, sadness… all the emotions we always try to experience in our private space, suddenly becomes a space we share with others, and it's no longer a haven we can exorcise our personal demons in. That's why Gretchen has been driving in her car to go cry alone all season. It can be extremely hard to tell someone you're suffering from clinical depression, knowing how hard it can be to deal with – and most importantly, how it often makes a person consider themselves broken next to another, particularly the person they're still falling in love with, unable to separate the feelings of comfort and love from the realities that we're all deeply flawed creatures, no matter how positive and well-adjusted we may seem.
"There Is Not Currently a Problem" goes to an extreme to explore this. As Gretchen's professional anxieties continue to stress her out on a daily basis (she jokingly mentions how the fake-turned-real rap beef could end up getting her fired), the Sunday Funday crew (plus Dorothy and Vernon) show up at Jimmy and Edgar's place with their own set of personal problems to smother Gretchen with, who is already stressed that Jimmy's seen the cracks in her facade and not in the mood to deal with the issues of others. And for fifteen minutes, those problems are continuously thrown in her face: Edgar's inability to express his feelings to Lindsay and letting them manifest through Dorothy, Lindsay's inability to handle basic human tasks like keep the power on and recognize a group of marathon runners, Vernon's frustrations with his self-important, pregnant wife. On a day when Gretchen's already feeling insecure and uncomfortable, listening to other people's problems in a closed space is a recipe for disaster, which ensues after she screams at everyone in a cruel, misdirected bout of rage.
At its core, "There Is Not Currently a Problem" is about Gretchen's clinical depression rising to the surface, and her attempts to hide it from Jimmy. After all, Jimmy's proven time and time again he doesn't want to care about the problems of other people, so why would he here? Their relationship, in that sense, has been a ticking time bomb for Gretchen, and the more she can keep her depression to herself, the longer their relationship can last.
Speaking from experience, this was doomed a failed endeavor from the start. Eventually, the numbing immobilization depression brings to the surface will affect a person's work and personal life, until one or both of them blow up in their face. As Lindsay points out, we can't hide the stains on our clothes – trying to cover them up only leads to elaborate failures, often with the same passive-aggressive explosions Gretchen has in this episode. Being angered by the self-pity of others stems from being angry at one self for having the same feelings – it can be hard for the human mind to accept the flaws in itself, which makes it understandable that Gretchen fears Jimmy will reject her "broken brain" if she talks about her depression with her boyfriend, who she was forced into living with when she lit her apartment on fire ("There will be a lawsuit! … There will be no lawsuit").
What it makes for is a surprisingly cruel, but utterly poignant and heart-wrenching half hour about the difficulties of human connection. Asking someone to accept the flaws in ourselves is just as hard as trying to reconcile them within ourselves, two difficult journeys that multiply when considering they're both happening at the same time for Gretchen. And because of this, she's given Jimmy and everyone else else stuck in their house (besides her best friend Lindsay, who saw her go through this in high school) no idea of what's going on, furthering the shame she feels when it all comes to light.
Will Jimmy be able to "deal" with this? Can he accept Gretchen's flaws, and realize that he's got some of his own (like his shame over his upbringing, or his father's failures) that inevitably affect the adult he's become? This is the question the final scene refuses to clearly answer, and neatly sets up the arc for the back half of the season. Depression can throw a major wrench into any relationship, be it Jimmy and Gretchen's, or one much stronger and longer lasting than theirs; depression is like an infection of the mind, one that doesn't always go away with expected results, or really ever at all. Knowing Gretchen is dealing with this is going to provide a massive personal challenge for Jimmy: can he sacrifice part of himself to understand and support Gretchen? Like the depressive episode it depicts, "There Is Not Currently a Problem" offers no neat answer to those or any questions, instead delivering an emotional powerhouse of a half hour, one as devastatingly honest as it is hilarious, another example of why I keep saying You're the Worst is the best comedy on television.
Other thoughts/observations:
Jimmy's sexual attraction to Janis Joplin is as confusing to Gretchen as it is to Jimmy itself. He's going to go take a shower and work it all out, though.
Gretchen's "You're a theater girl" is one of the funniest and cruelest line readings I've ever heard.
Becca keeps talking about "harnessing the power of life itself," which gives a little perspective to the groping Vernon did last week (and awkwardly paid for this week).
Jimmy's night light returns!
"Besides, her pelvic floor was wack." Dr. Vernon is the best.
The Just Farts Podcast definitely sounds like something Lindsay would listen to.
This episode was beautiful and touching, and Aya Cash deserves an Emmy for her performance in this episode. That is all.
[Photo credit: Byron Cohen/FX]