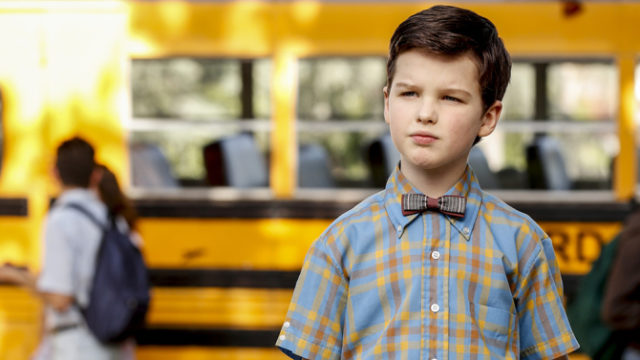 Being the spinoff of one of the most successful comedy shows in history, Young Sheldon really had a lot to live up to. Even more, the title character himself had a lot to prove considering Sheldon Cooper is one of television's most well loved characters. Young Sheldon premiered on Monday, September 25, and it did not disappoint one bit.
Starting with the main character, Iain Armitage does the young version of the genius more justice than we could ever ask for. The talented 9 year old may be new to the industry, but he's already starred alongside some big wigs such as the ladies from HBO's Big Little Lies, Brie Larson, Naomi Watts, and Woody Harrelson from The Glass Castle, and all the veterans from Law & Order: Special Victims Unit. In the premiere, Armitage made us fall in love with the character all over again, but he did so with more of a maternal sense, which we can probably thank his onscreen mother for.
Zoe Perry plays young Sheldon Cooper's mother, Mary. It's odd enough that the daughter of the original Mary Cooper, Laurie Metcalf, ends up playing the younger version of the mother as well, but what's more odd is the way Zoe carried on the same motherly vibe in the new show. Being a mom to a genius is not easy, after all, but Mary's character carries it all in stride.
The first episode showed us 9-year-old Sheldon starting high school alongside his brother George Jr. Of course the genius ended up skipping a few grades to get to this point, but we can already imagine what kind of disasters this situation will lead to. Sheldon is all too excited about school and maybe overly optimistic, but everyone else around him knows it's a recipe for trouble. He only looks at high school as a place for higher learning and nothing more. Thanks to his mom, Sheldon has a steady ally watching out for him every step of the way, but what happens once he's inside the high school walls?
Sheldon shows us that he can pretty much take care of things, but he still has much to learn. We also learned that he's not only going to have to contend with high school students but the teachers as well. We saw teachers complaining to the principal about the young student, but again, mother Mary comes to the rescue each time. Everyone in the show is adjusting and learning to cope with their new environment, and Sheldon gets a first lesson in the series. When his father George revealed to him the reason for his firing from his previous job, Sheldon learns that there are some things, discoveries, and opinions that he should just keep to himself. It might not do him any good personally, but it might protect him in the long run.
Young Sheldon's premiere topped the viewership tally last Monday, beating shows such as the long standing The Voice and new shows The Brave and The Good Doctor. There's more to this little guy than meets the eye, and we're staying tuned to see just how the young guy ended up becoming the Sheldon Cooper we know now.
Tell us what's wrong with this post? How could we improve it? :)
Let us improve this post!