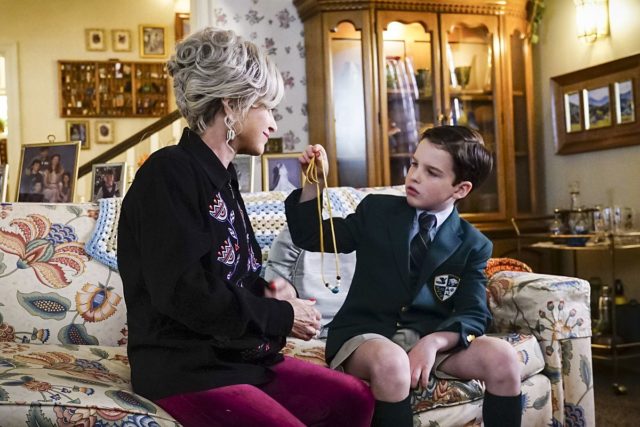 Young Sheldon was always destined for greatness, but he needed a little help getting there. He was the type of kid who wanted and needed to be challenged. That isn't just about advancing his intellect, but making him feel comfortable, to feel like he belongs. That's something every kid deserves. Truth be told, many teachers just aren't equipped to handle someone with Sheldon's abilities, let alone his unique temperament. So when the opportunity comes up for Sheldon to attend private school, (almost) everyone jumps at it.
Though Mary Cooper tries to preserve Sheldon's childhood, his first response to this news is "When can I start?" The hiccup is that the program is three hours away from home, meaning he would have to live with a host family during the week. Given the fact that his host family is the headmistress and her retired astronaut husband, Sheldon's next response is, "When can I move in?" Sheldon is thrilled, and so everyone stuffs down their apprehension. Meemaw even sends him off with a good luck family heirloom she bought for a few bucks.
Then a funny thing happens. Everyone in Sheldon's family, other than an already emotional Mary, starts to miss him. Even Missy, who tries to use twin telepathy to call her brother. George has just about enough of the misery when his wife and mother-in-law start blaming each other for not stopping Sheldon. I have come to greatly appreciate George Cooper Sr.'s get-up-and-go attitude. He does what needs to be done for his family. If Sheldon asked him to drive to Canada for rare maple syrup, I honestly believe George would do it. He barely waits for Mary to agree with him before he out the door to retrieve Sheldon. By the time George comes to get his boy, Sheldon is happy to go home. What was thought to be a perfect setup was instead Sheldon's worst nightmare: green beans, ceiling fans, and folk music. According to Sheldon, the headmistress's house was a death trap designed to torture him.
There really is just no place like home. For as much as he complains and comments on everything, home is home, even when your sister jumps on you. The funny thing about looking for the place you belong, is that sometimes you realize you were already there.
Sheldon will not be going to private school, but given how quickly he breezes through his studies, how much longer will he be at home?
Tell us what's wrong with this post? How could we improve it? :)
Let us improve this post!