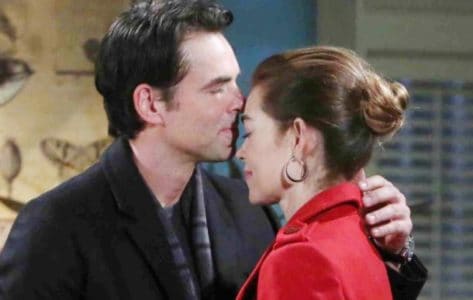 Young and the Restless fans love a good story line, and that's precisely what they're getting this week. Victoria has a business to run, and she's on business in LA, but she can't seem to get her mind of Billy. They're there together, and she can't think about her job or what she needs to do for the company because she is so focused on how she is going to use this time away from real life to get him back. She has him away from Phyllis, she has him away from their kids, and she's finally going to put her plan into motion and get him away from his fling with Phyllis. She's managed to do some seriously good work, and Billy is going to take notice. When he praises her hard work, she's going to feel she has the best chance of getting him back.
We don't know what might happen just yet, but we do know that Phyllis is not happy. Victoria already made it clear to her that she's going to steal Billy from her while she's in town, and she's not happy. Then she get into a match with Ashley, who will throw some serious punches at Phyllis. She's going to tell her that Billy and Victoria are undoubtedly spending some serious quality time together in LA and that she should be worried, and she's going to continue to hit far below the belt in an effort to upset Phyllis. This means Phyllis will call Billy to help her feel better, and she won't like what she hears. It turns out she is going to hear him tell her he can't chat, because he's with Victoria.
We have a feeling Phyllis is getting on a plane before the week is over to head to LA and intervene on this little trip that Victoria and Billy planned. Will she ruin Victoria's plans, or will her jealousy and lack of trust make Billy think twice about his relationship with her? After all, he told her she has nothing to worry about yet here she is. We have a feeling he won't be amused by her sudden appearance in his life.