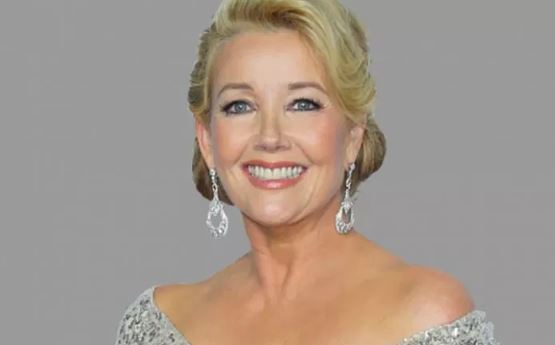 Young and the Restless fans know all they need to know about Melody Thomas Scott as Nikki, but do you know her as herself? She's been around a long time, making relationships with two of the most powerful men in Genoa City as well as a few others in between — and sometimes not even in between. She's been making a name for herself as a strong and sassy woman from the start, but that doesn't mean there is nothing left for her. We want to know more about the woman behind Nikki, so here you go.
1. She's Been Acting Since 8
She was born in 1956, but her first acting role was in 1964. She's been working hard her entire life to get where she is now, and she's someone who shows it's possible to grow up a great adult even after being a child star. Not many stars can do that.
2. She Had a Recurring Role on The Waltons
And her character got to use her given name. Melody Thomas. She was no longer a child when she had this role, but she did an excellent job of making sure she was able to fully enjoy herself when she was on television. She's a superstar, and she's always been one.
3. She's Been Married Three Times
They do say the third time is the charm, right? It finally worked out for her in 1985 when she married her husband, Edward J. Scott. They've been married ever since, which puts them well over the 3-decade mark. They seem happy together, still.
4. Her First Two Marriages Were Quick
She can brag about being married a long time right now, but there's not much she can say about her first two marriages. She was married to Lindy Davis for less than a year in 1979 and Bob Shield for less than a year in 1980. She also married her second husband less than a year after she married and divorced her first one. That, by itself, is pretty soap opera-esque.
5. She's Been With YTR for Many Years
She began playing the role of Nikki Reed in 1979. She was only 23 at the time, and she was one of those girls cast to be a bad girl from the wrong side of the tracks. She certainly did not fit into the high-society crowd in which she is now, but she managed to make it work.
Deciding what food and drink to OD on! #Mozza with DH Edward! pic.twitter.com/Umimi7zyDq

— Melody Thomas Scott (@MelodyThomasSco) April 24, 2017
6. She's on An Important Board
It was Melody Thomas Scott who was asked to be one of the original board members of a very special board. She's part of the original board dedicated to the Lucille Ball-Desi Arnaz Center. It's located in Jamestown, NY. She was asked to be on the board back in 2002.
7. She Has Three Kids
Two are her own biological kids, two are her husband's biological kids, and one is theirs together. He had a daughter from a previous marriage, she had a daughter from another relationship, and they have a daughter together. They do, however, consider all their kids their own kids and not his or hers.
8. She's A Grandmother
Her daughter, Jennifer, was fortunate enough to have two babies at one time back in 2011. She gave birth to a set of boy/girl twins, and officially made her mother a grandmother for the first time. Her grandchildren are Charlotte and James.
9. She's An Emmy Nominee
She was nominated once back in 1999 for a Daytime Emmy for Outstanding Lead Actress, but she did not win. However, it's always an honor to even be nominated. While we haven't been nominated for an Emmy ourselves, we imagine it's a lot better to be part of a small group of people good enough to earn an nomination than it is to be part of a huge group not good enough for the nomination, right?
10. She's Thankful
Melody Thomas Scott is not a woman who takes for granted the fact that she has a job. She's been working for more than 35 years on the YTR, and she's grateful that she's had a job in this industry for that amount of time. She knows it's not all that common, and she's very glad it is her who has the honor.