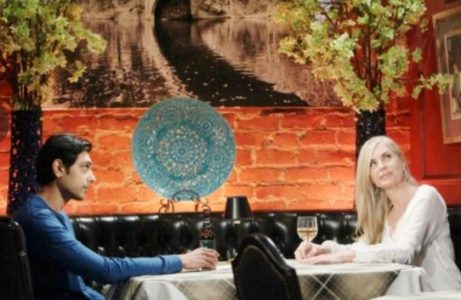 Young and the Restless spoilers tell us Nikki is doing whatever she can to keep her family together. Her husband has gone and killed their son, her kids are furious with him, and he's ruining their family. He's done things to them so horrible she cannot even bear to think of it, and she's not someone you want to mess with. She's a woman upset about things she can't control at the moment, and she's not about to let them go so that she can just move on and repeat mistakes she made in the past. She wants her family put back together, and she's going to get very resourceful to find a way to make it happen. She's not in a place she enjoys, which means she's desperate. Desperate women tend to do things that might make them a little more desperate.
Ashley is finally going to do a little something for herself. She's not so worried about her work and business life and her personal life intertwining at the moment, and she's going to have a little fun. We wonder if it's with Ravi, whom Traci has been repeatedly telling her to get in bed with, or if it's a tall, dark, and handsome new stranger we've yet to meet. All we know is she's about to have a little bit of fun, and it's about time for her to do that for herself. She's got a lot on her plate at the moment, and she's looking to lighten it up.
We just hope she's not planning on using Ravi the way that Traci has suggested. He's not just some casual acquaintance with a crush on her. He's her best friend, someone she loves and admires, and using him this way would leave him with nothing less than a broken heart and a feeling of inadequacy when it comes down to it. She can't be sol cold and heartless, can she? She's got to do something to make sure she's not overly involved with him, and we hope she makes a wise choice. We also hope her impending fun is with someone she doesn't know so well.