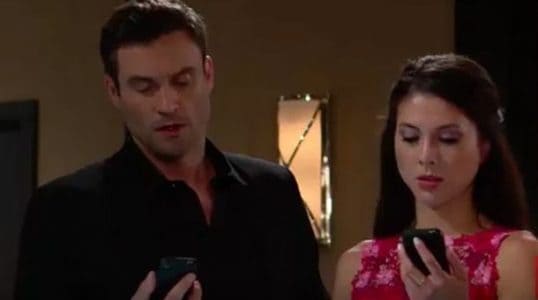 Young and the Restless spoilers tell us Cane is going to lose it when he walks in to Juliet's office to find out that Hilary knows about their little fling in Hong Kong. He doesn't want Lily to find out, and he's going to lose it on Juliet when she tells him she confessed to Hilary. He will not calm down until she reminds him that she didn't tell Hilary herself — she overheard Cane freaking out about it to Juliet. He's going to be more than a little upset, because he knows what kind of woman Hilary is.
Juliet is going to reassure him that there really isn't much to worry about at this point. He's got a lot on his plate, but as long as they do whatever Hilary wants, she will let it go. Of course, they both know deep down that she won't just ask for one thing and then call it even. She'll continue to hold this information over his head until she breaks him. She will tell Lily, but we have a sneaking suspicious that Cane will just tell her himself.
Will it be now? And will it be something she can forgive? We don't know that she will be willing to overlook this. They've had a long history of their love life being a little bit crazy. They've both cheated more than once, and they've forgiven one another more than once. But they promised each other last time that this was the end. Can they mean that? Is there something they can do to make things right in their marriage?
Tell us what's wrong with this post? How could we improve it? :)
Let us improve this post!