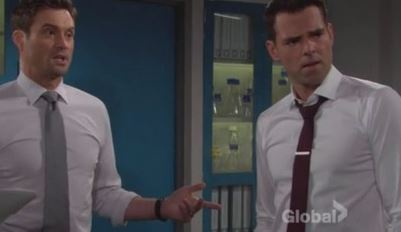 Young and the Restless fans believe that Cane and Billy will end up getting along despite their many issues. Billy saved his twins from the horrible fire at the Underground, and we have a feeling this is going to make Cane feel indebted to Billy. Of course, we don't think that Billy has this in mind at all. We have a feeling he thinks that there are things they need to work through, but we can't decide if he will go this route. He's known these kids forever, and he wasn't going to let them die in a fire. He would never allow that, and he doesn't feel he did Cane any favors.
Cane, on the other hand, feels that he owes it to Billy to get over their issues and move on. He feels that Billy is the man he needs to thank for saving the lives of his kids, and it's true. He did save them, but there is no reason that he should feel at all like he's owing him anything in the future. He would have done the same for Billy's kids.
Either way, it won't be any time soon that Cane will forget this, and we have a feeling that Billy is his new idol. We don't think there is a chance that Billy will feel good about this, but he might get used to it eventually. We just hope these men can work through their differences so we can all see them grow together and figure these things out before much longer.