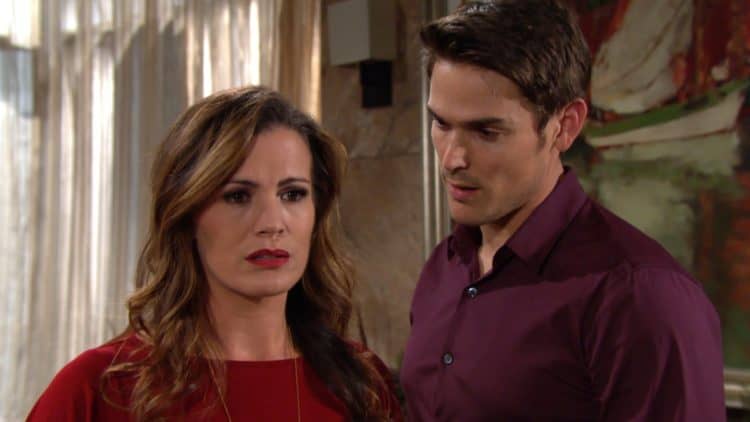 Young and the Restless fans are definitely not at all shocked that there was a moment when Adam kissed Chelsea. He wants what he wants, and she's what he wants. He's not concerned in the least that he is getting in the way of her romance with his brother. He doesn't care. He has never cared, and we know this. He will never care, either. The only problem is that we can see in her eyes that she doesn't have a clue what she wants, and this is going to be a running theme into the new year again. This is a problem that is not going to work out for her no matter what she does to try and make it work out for her. She's a hot mess, and she always has bee. But, we are tired of talking about her when there is baby news.
Chloe is expecting, and Kevin is literally the happiest person in the world right now. He is in a place where he is ready to move on with their future and their little family, so this is news that is literally so good for him that he cannot even fathom how good it feels. Even Nikki and Victor have baby news. Well, they found a newborn baby in the stable, and they aren't sure what this means, how to handle it, or to whom this baby belongs. We have to assume, though, that this baby is going to play a significant role in a major storyline this year, and we are more than a little bit excited about it. It's good stuff. We cannot wait to see where this all takes us, and we cannot wait to see how things work for everyone in this moment to come.
What's Happening on Young and the Restless
New year, new episodes! Happy new year from all of us at #YR. 🎉 pic.twitter.com/fjvGydWp7C

— Young and Restless (@YandR_CBS) January 1, 2020
We love a new year.
What's Next on Young and the Restless
It's a time for big changes and big decisions. 🎉 Don't miss what happens this week on #YR! pic.twitter.com/C4KdIkms2R

— Young and Restless (@YandR_CBS) December 29, 2019
Amanda and Billy are doing nothing if not growing closer and closer together as they make their time more inappropriate. She is into him, and she is totally open and fine with the idea of an affair. She's not all that worried about him and his life, and she certainly doesn't care at all about Victoria. She's got too much on her mind that is all about her and has no bearing or affect on anyone else, and that is all there is to it. We cannot help but wonder if there is something else that might work out for us, but we cannot decide in our manner how that might work. Sharon, on the other hand, is about to make a stunning discovery that might change the game and the way things are going down in Genoa City. Does she find out that there is a baby that's been left in a stable?
Does she find out that Chelsea and Adam shared a kiss right before the party and that Nick doesn't know about this? Will she find out that Chloe is having Kevin's baby and that they are happily planning for the future, but she can use this to get something that she also wants in return? What will it be, and how will it all work for her? We don't know, but that's what we are left with as the weekend comes to a close and things work out in the favor of those who want them to.
Stay tuned for more Young and the Restless and be sure to check out TVOvermind daily for the latest Young and the Restless spoilers, news, and updates.