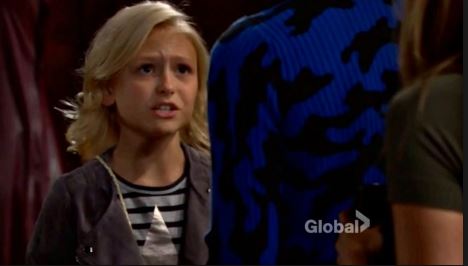 Young and the Restless fans know Faith doesn't have much experience in life at the moment. She's got a lot of growing up to do, she's got a lot of learning to do, and she's going to learn some things the hard way. She's learning a hard lesson right now as she decides she's going to tell on her aunt and Scott. We think she's telling Mariah and not Sharon, but we aren't certain. All we know is she wants to tell someone what she saw, and she is not happy.
So what will happen once she tells? Will this all come back on her? Will she be all right? Will she want to know what she can do to make things happen positively in her life, or will she end up focused on all that might happen for her rather than what she can do? We aren't sure what she has to gain by telling anyone, but she just has a secret she can't keep.
And that's going to be her downfall. She's going to end up causing a lot of family drama and hurting people she loves the most, and she has no idea. This might be her first lesson in how difficult the world can be when you don't pay attention to what you need to do in your own life as much as you focus on telling everyone else what you want them to know and what you want to say to them today.