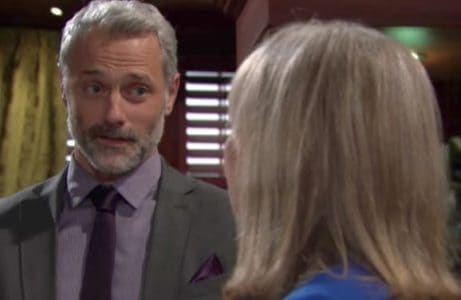 Young and the Restless fans are just waiting around to find out what Graham is up to. We know he's financially supporting and handling assets for Dina, but what is he really doing? We know whatever it is can't be good, and he cannot be up to anything that's appropriate at all. He's got too much going on in his own mind as far as revenge and guilt and all things dastardly to possibly care for this woman.
Jack and Ashley want to know, but he won't give them much of a chance to figure it out. He's always one step ahead of them, and he is not about to sit back and wait for them to find out what is going on in his own mind. He has problems to work out, and he has his eye on them. They aren't going to get in his way or make his own life more complicated than it is, and he's sure of that.
But it turns out that Dina doesn't seem to understand anything that's going on. She's got a granddaughter she didn't know but suddenly wants to know, and a man who doesn't seem to be doing anything right by her but she cannot stop defending him. It's one of those situations in which people cannot get it through their minds what might be happening. We know he's up to no good, but how long is it going to take her to realize the same thing — or will it be too late?