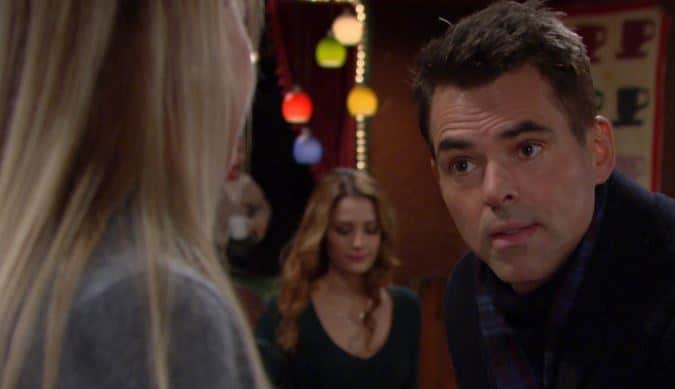 Young and the Restless fans know that Jack has some issues to work through, and he's working through them by trying very hard to charm Kerry. He has a chance to get what he wants from her if he can get her to fall for his ways, and he is working that situation to the absolute best of his abilities at the moment. He has a chance to make things happen in his life, and that's where he is going at the moment. He's in a place where he can get to his desires by being honest, but he's not sure how to do that when he can just reach into his situation and cause things to work out in a much different manner. But for now, however, we will sit back and watch him work his magic. We don't know that she's falling for it, which is what makes it more fun for us to watch go on.
On that note, Billy and Sharon decided it would be worth their time to team up on the many things that they have to do. We disagree on that one, but they seem to think that the best option is for them to sit back and work on their personal situation with some vengeance. We think they have a lot more to work on than just that kind of situation, but they disagree. Right now, they will work to make everyone in their lives miserable. They are the victims here, yet they are also the people who are not living their best lives. Phyllis and Nick seem to have gotten over them and moved on — with one another — in no time at all considering they broke up at the wedding Nick and Sharon were having. That's bad karma for him, but that works for us.
What's Happening on the Young and the Restless
https://twitter.com/YandR_CBS/status/1062872813378433024?ref_src=twsrc%5Etfw
She's new, and we love her. So sit back and get to know her a bit as she's being welcomed onto the show for the first time. She's amazing, and we want to know as much as possible about her at this point.
What's Next on the Young and the Restless
A surprise visitor will stake her claim and shake things up in Genoa City. Don't miss #YR this week! pic.twitter.com/cQdxkYYi82

— Young and Restless (@YandR_CBS) November 11, 2018
Phyllis and Billy are not in a good place. She's the CEO of his family's company, and that doesn't make him happy. In fact, she slept with Nick while they were together. She kept that very little bit of information to herself, and then he found out after he proposed marriage to her and they were sitting at Nick and Sharon's wedding — in the audience — when Sharon confronted her groom about sleeping with Phyllis in front of all their guests. It was ugly, and now they are in an ugly competition with one another. He wanted this job, but we all know that he can't do this. He is a mess, and he struggles to keep his life separately contained in all the appropriate places.
But now they are competing at work, but they are also competing in every other manner of their lives. This is going to be so much fun to watch. Of course, we also want to see what happens when Kyle. Summer wants him for herself, but it's obvious to everyone in his life that he is clearly smitten with Lola. However, we all know Summer to be the kind of girl who will do anything, everything, and whatever to get what she wants. She's not above any of that, and we love her for it. And — we can all expect to see Nick make a move that will leave us all shocked and beside ourselves. He's a man looking to make changes, and that's what he is doing in his life.
Stay tuned for more Young and the Restless and be sure to check out TVOvermind daily for the latest Young and the Restless spoilers, news, and updates.