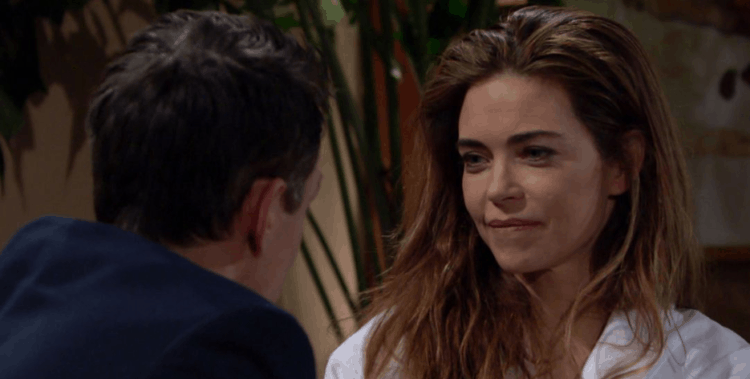 Young and the Restless fans know that things will take a turn for the worse in some time. We know that there are things that will make this all worse, but for now we just have to sit here and wonder how, when, and where Victoria will make it clear to everyone in her life that she is not dealing with this, that she is not a fan of this, and that she is not going to deal with this. She is more than unhappy that Billy showed up in her life and made her unhappy when she was ignoring him and making it clear to him that she was not interested in seeing him. She was a having a grand time with another man, and he had to go and interrupt her, and now she feels as if she is in trouble.
Meanwhile, we know that Rey is in a really bad situation with Paul. Paul has told him he has a choice to make, and it better be the right choice. Rey is not sure what to do. Mia is really pregnant, and she has no idea who the father of her baby is. Is it her husband, or is it her husband's father? He's yet to share with Sharon, who he is now involved with, that his wife is pregnant, and we all know that Sharon will not be very happy when she finds out this is happening. Things will not work out well for her in any way, shape or form in this matter, and that is something that she will have to deal with at some point in time. For now, though, things will make a much more interesting difference to those who are involved in that situation. Will it work for everyone?
What's Happening on Young and the Restless
#Villy is in Vegas and we are loving it! RT if you are too. 💕 #YR pic.twitter.com/QI5RwFsBO4

— Young and Restless (@YandR_CBS) April 8, 2019
They sure are quick to change their tune, aren't they?
What's Next on Young and the Restless
It's a week of taking chances, risks, and blackmail on #YR! Get ready. 👏 pic.twitter.com/uLF5porWNE

— Young and Restless (@YandR_CBS) April 7, 2019
Jack and Ashley are good, then they are not, and then they are, and then they are not. She was gone when they were not good after he found out all the horrible things she did to him and that she hid his paternity truth from him for a reason that was beneficial to her. She is back now, and she's looking for a fight. He's going to give her one, and that is going to make things a little bit more uncomfortable for all of them. They are going to find that things are not going to work in their favor, and things will take a turn that will turn her life into a mess unlike anything else she's ever encountered before. We cannot wait to see how this unfolds.
Meanwhile, we know that there is nothing as interesting as a new character, and that is precisely what a new doctor is going to bring to the table when a brand new Nate Hastings Jr. shows up and makes things a bit more interesting. And, Victoria is going to find a mystery just waiting for her. She just got over one of her, and we cannot figure out why she needs a new one at this point, but she's in a place where she feels that things will work for her in a way that don't make much sense. She's got too much going on, and we are not sure that things will work for her in any capacity. It's too much for us to deal with.
Stay tuned for more Young and the Restless and be sure to check out TVOvermind daily for the latest Young and the Restless spoilers, news, and updates.