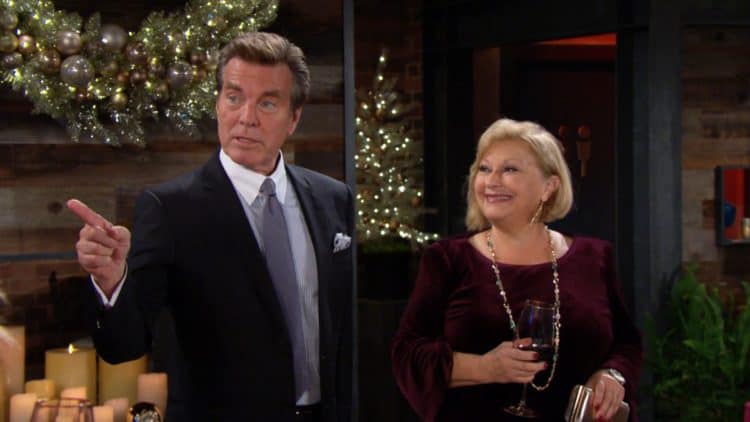 Young and the Restless fans are still living the Christmas spirit, but no one is living it more than Victor and Nikki right now. They are feeling the spirit more now than ever before in their lives, and we totally get it. They have so much going on in their lives, but the recent events that make things seems so much more like they are a miracle are changing the game. For example, did you know that there is going to be a delivery that will make them feel the true meaning of Christmas? They could use this in their lives after all the pain and the suffering and the hurt and the mistakes they've caused and made and created for one another, with one another, and without one another. We cannot help but wonder if this will leave them in a much better place than they've been, and we hope that it does.
Meanwhile, we also know that there is a chance that Chloe is going to make Kevin's year with the entire situation she's created. She is giving him the most beautiful, most wonderful, ultimate wedding gift of all, and we cannot help but wonder if this will change their lives forever or just for the moment. There is nothing he will not do for this woman, and he has proved that time and time again, so we have to wonder what else he has going on in his life and how this will affect him as they move forward. This will be the happiest day of his life, and we can be sure that he will not take that for granted or move on with that in any way other than to do what he can for her, with her, and without.
What's Happening on Young and the Restless
Peter Bergman of @YandR_CBS shares how he landed the role of #JackAbbott, the hidden hobby he's most proud of, and why you won't find him on social media. Read the full interview here 👉 https://t.co/gs96FC35qI#YR #CBS #CBSWatch pic.twitter.com/6uxNCEY97i

— WATCH Magazine (@CBSWatch) December 26, 2019
How do you not love him?
What's Next on Young and the Restless
It's a time for big changes and big decisions. 🎉 Don't miss what happens this week on #YR! pic.twitter.com/C4KdIkms2R

— Young and Restless (@YandR_CBS) December 29, 2019
Nick is not a happy man. He knows that his brother is up to nothing good, and he knows that Adam is likely trying to take Chelsea from him. He knows that the entire concept of her moving in with him was his idea, and he knows that it's not a good situation for any of them. Nick and Chelsea can never move forward in their lives and in their relationships until there is a guideline set with Adam, and we also know that he will never set that or allow that in any capacity. There's a big problem going on, and Nick is going to take control of that and change the game as far as we are concerned. We cannot wait to see this happen, and we are just not that mad about it. Right now, this is good news for everyone.
In the moment, though, we will also see that there is a situation with Jill. Chance has some questions for her, and they might not take her down a road that she feels is overly productive or at all good in her own life. She will not be happy about this, and she will not allow this to control her, but he has to do what he has to do to get the answers he needs from her. We will be over here wondering just how much he will push her and how she will respond to his pushing. She doesn't care how Abby feels about him or what she thinks, she's not having any of this.
Stay tuned for more Young and the Restless and be sure to check out TVOvermind daily for the latest Young and the Restless spoilers, news, and updates.