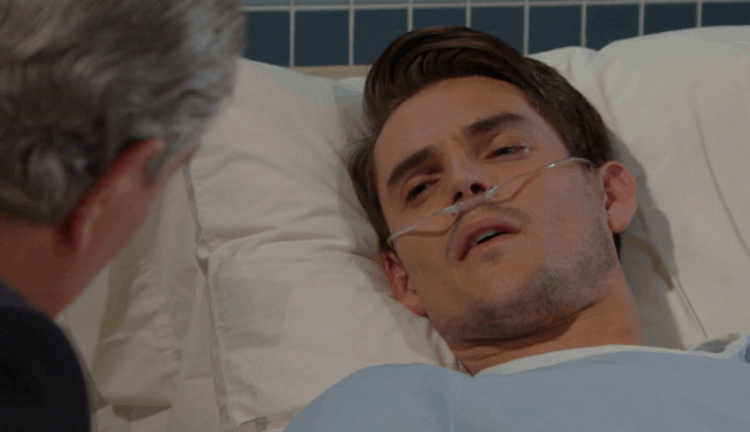 Young and the Restless fans are so excited about many things, but mostly about Adam and all the drama he is bringing now that he is back. For one, we can say that he seems to be much more himself now that he is awake and done with his surgery. He did call his father dad, which is a big step. Jack learned the truth, and he's not thrilled. And then there is the fact that Lauren is literally going on out of her own way to make people feel that they should fall in love. No one around here can pick the right person on their own, and she seems to feel that she can do it with some ease, and we have to agree. That's a nice thing, and it might work for her depending on who she feels she needs to set up. But, sometimes these things don't work.
Nick has to defend himself and do things that he is not sure he wants to do, and he's not sure how to do it. He's not sure how to make this work, and he's not sure how to get this situation under his own control. But, he is sure that he has to do something. Meanwhile, his father is in the same boat. He also has to get things into his own control yet again, and that is not something he's sure he can do. There's a lot going on, and not one person can figure out how to make that work in their own moment of peace. However, we do think that these two will end up fighting things through again. They're both in the middle of some big life changes and things, and they both want control over it in their own manner. Will they battle this out?
What's Happening on Young and the Restless
We just love #Shey 😍 #YR pic.twitter.com/LsObUZofo1

— Young and Restless (@YandR_CBS) May 16, 2019
But, for how much longer?
What's Next on Young and the Restless
It's a fact – there's nothing like #YR. ❤️ Don't miss all of the drama and romance this week! pic.twitter.com/ic2E9JIbMC

— Young and Restless (@YandR_CBS) May 19, 2019
Billy is someone who has a plan, but he's not sure how to execute his plan. He's always at odds with Victor, and this situation is no different. He cannot make things work in his own mind, and he is not in a place where he can get this into his own control. He's actually making a fool of himself in some way, shape, or form. He's in the middle of making people miserable, and we get that. But, we also get that there is more to this than what he is saying. We get that there is more going on than we want to admit, and that's a thing we can agree on. For now, though, we also know that they are about to have words, and that is a thing that works well in their own favor. They have much more to offer than others do, and that's fun news.
For the time being, though, we also know that Sharon is going to get a big reality check. Will that reality check have anything to do with Rey, Adam, or however her own life is going? She's not going to be happy, but there is also a chance that Elena and Devon are getting closer, and that is fun. We thought he might have some feelings for Abby, but we could be wrong about that. He seems to really like Elena, and that's good for him to move on. We just hope this doesn't end poorly after his marriage and his loss.
Stay tuned for more Young and the Restless and be sure to check out TVOvermind daily for the latest Young and the Restless spoilers, news, and updates.