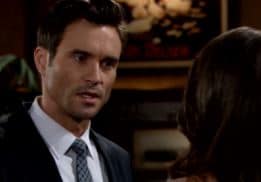 Young and the Restless fans might not see it yet, but we see a romance in the works. Cane is no place right now to worry about finding someone to love. He lost his wife when he cheated on her with Juliet, and he just lost Juliet when she had pregnancy complications. He now has a severely premature son who is fighting for his life, and he can't seem to figure out where to go next. The world seems to want to see him and Lily renew their vows and stop with the divorce talk, but that doesn't seem to be the case.
You see, Hilary has made it clear she is here all day long for Cane. She's the reason he is in this entire situation, though. She's the reason that Juliet filed a lawsuit against him at work with Victoria, and that his wife found out about his affair — though his pregnant mistress probably wouldn't have allowed that secret to keep much longer.
Now Hilary is all over the place with her sadness and her "I'm there for you" feelings for Cane, and we think things might just evolve sooner rather than later. Of course, this might work well for Hil since she's always hated Lily. What a win this would be for her. To end up with the husband she gave up after a little infidelity and some new baby mama drama. Hilary, after all, doesn't have any problems with a little baby mama drama in her life.