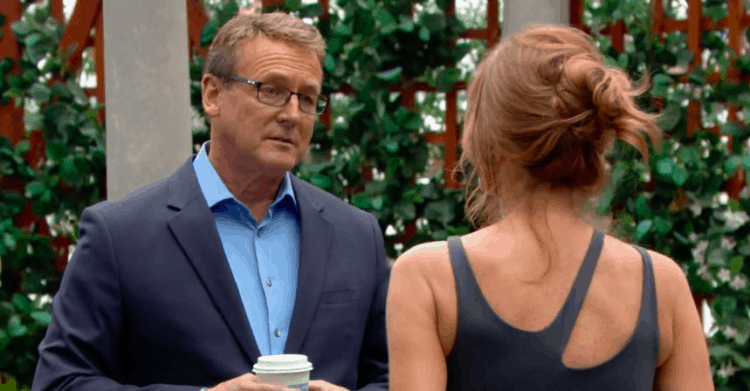 Young and the Restless fans are looking to the future, but we hope that it changes a few things. For one, we know that Victor is currently celebrating, but how long will this last? He's going through so much right now, and all it takes is one little setback to take his life and change it in a way that might not allow him to focus on anything other than his own personal feelings of destruction and unhappy situations. He's caused so many of his own issues, too, and we wonder if he has a chance of getting those together and making his life seem better. His kids are all alive and well, and he seems to think that he can bring them all together and make this all go away. He is looking to undo some of the problems and damage that he himself has caused in the past, and we cannot figure out if he can do that on his own. Of course, he's not going to handle things well.
Meanwhile, he's going to see that Nick and Chelsea are having a thing. She's married, and things might not be as they seem with him. But, things are not going to work for them. There is a problem with her, and we cannot put our finger on it. She wants a little more than forgiveness from him, and that will be a problem. He is fighting some feelings of his own, and we cannot decide if he can fight those or if those will work for him in any way, but we know that he is going to see what he can get out of all of this if the world allows him to take that route. He isn't sure, but there are some things that might be happening right now.
What's Happening on Young and the Restless
We ❤️ this mother-daughter duo! Who's loving Celeste and Lola reunited in Genoa City? #YR pic.twitter.com/yVOCF5xGot

— Young and Restless (@YandR_CBS) July 8, 2019
Who doesn't love a little mother/daughter bonding time?
What's Next on the Young and the Restless
She lost her husband…will Chelsea's ex sell her out? Find out this week on #YR! pic.twitter.com/qfqgjwUT2S

— Young and Restless (@YandR_CBS) July 7, 2019
Adam and Kevin are not friends, but Kevin needs Adam to get what he wants in terms of what is going on in his own life, and Adam currently has what we like to call the upper hand on this one. There is not one good thing happening around here, but we have to point out that there is a lot that is going on around the world in terms of what is going to be the truth for Kevin. He's going to need to play dirty to get what he wants from Adam, and we suspect that's precisely what Adam wants. He wants this man to play dirty, to take care of business, and to do the many things he thinks need to be done. There is nothing going on around here that we cannot control.
Then there is Billy, who is doing to get a visit from his mom. Jill is back in town — as she likes to do — and she might have more than a few things to say to her son. She might not be very happy with his behavior and the way he is living his life, and she might not be happy with the many decisions he is making. But, for now, she's here to be with him, to see him, and to see if there is anything she can do to help him get through his situation without much more than a small situation. Will she support him, or will this get ugly first?
Stay tuned for more Young and the Restless and be sure to check out TVOvermind daily for the latest Young and the Restless spoilers, news, and updates.