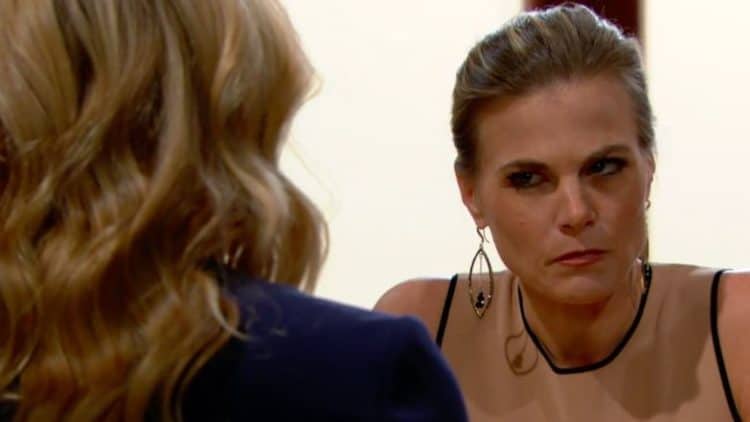 Young and the Restless fans are all kind of over here just watching as this train is quickly departing the station to take a drive down a half-constructed track and into a ravine without any hope for survivors. The train is called Summer, and the passengers on this train are Phyllis and Nick and Sharon and Billy, and she's not going to slow down until she hits that last bit of track so hard there is not a chance anyone will make it out of her mess alive. She is very much aware of what her mother and father did with one another while they were with Billy and Sharon, and she's not looking to keep their secret for them. She's an angry, hate-filled young woman who wants to get what she wants to get, and she's not sure she cares who she hurts in the meantime. Her own parents are not even that important to her. She's taking them down, and we are watching.
They spent the day yesterday begging her to keep her mouth shut and keep their secret, but she likes the power of knowing things that can ruin lives too much to do that. She's too much of a problem child for anyone to have any issues with her, and that's fine with us. She's got her situation under control, and we are so excited to see how this is all going to fall apart. She's not in the mood to do the right thing, and she's not even trying to make it a secret she feels this way. Her own family can't stop her, and this is amazing to us. But she's going to do what she wants to do, and she's doing it with no regard for anything other than herself.
What's Happening on the Young and the Restless
Leaving the office early like… #YR pic.twitter.com/80ynMVXoYl

— Young and Restless (@YandR_CBS) August 16, 2018
Oh, hey Friday. We see you here just waiting on us to get up from our seats and walk away like it's the job we were born to do. We are all about it, and we are not arguing for a second about how we are going to focus on this one. There is nothing we can't do but sit back and relax with this entire situation — and we want to know how you leave the office on Fridays. This is actual footage of us parking our computer in the off position for the weekend. How about you?
What's Next on the Young and the Restless
Lily tries to make amends today on #YR. pic.twitter.com/5gvHLBSm4z

— Young and Restless (@YandR_CBS) August 16, 2018
Friday will be an interesting day for all. We will see that Ashley will turn the tables on Neil. She's been so good about spending her time being there for him with the problems he's been facing in his family. She's been there for him while he's been struggling with the loss his son faced, with the loss of a grandchild he never had the pleasure of knowing alive, and with the loss of what will be his daughter's freedom. He's struggled, and she's been there for him. But now she need shim to be there for her, and we wonder if he is strong and capable enough right now to handle her own needs as he is still struggling with so much. Time will tell, but we don't know if he can be there for her in the moment.
Additionally, we will see something happen with Summer. She's going to take someone up on an offer to do something we can only imagine isn't very nice or honest. She's creating a fun reputation for herself now that she's back home and having a good time spending her life making everyone miserable, and we don't know that she can handle all of this. But the good news is that she has a chance to redeem herself. Not with this deal, of course. She's going to give them something that they want so that she can have something that she wants, and we can only imagine how hurtful what she's doing is to someone who probably doesn't deserve what's she's doing.
Stay tuned for more Young and the Restless and be sure to check out TVOvermind daily for the latest Young and the Restless spoilers, news, and updates.
Tell us what's wrong with this post? How could we improve it? :)
Let us improve this post!