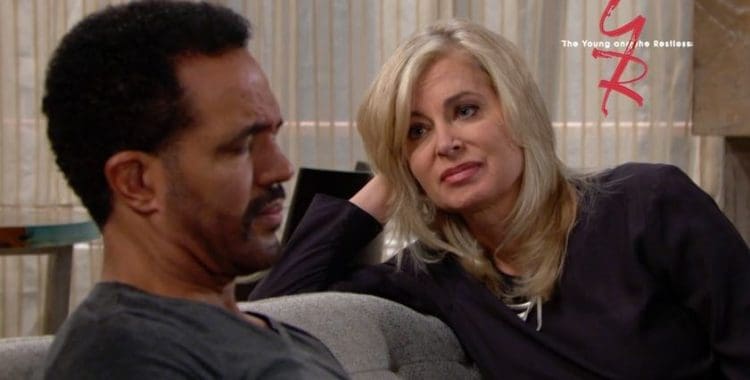 Young and the Restless fans aren't sure there's much that Phyllis can do at this point to stop her daughter from whatever game she's playing. Summer is in a place where she is going out of her way to make sure her mother's kind of boyfriend is all about her and not a person else. She's on board with it and with seducing Billy, and he's barely trying not to allow it to happen. She's a sucker for getting what she wants at this point in her life, and she's not stopping at anything to make it happen. We think she will go out of her own way to make sure she is able to get things to go her way, and we are certain she's going to do it with vigor and passion. She's got some serious problems to deal with, and it was evident when we watched her prance around in her towel in front of Billy like it was her job. She's a mess, and she's taking him down.
But that's all right because we also noticed that Nick and Phyllis still have some chemistry even though they swore they would not allow this to go any further. They are not going to have much to do about nothing in a moment, and we think this could turn into a thing. But more heartbreaking than anything is what is going on with Lily. She's turning herself in for her crime of running a red light, and she's going to face whatever comes her way. She's in a spot of trouble, and she cannot handle what is happening to her. She's a mess, and it's painful to watch her struggle like this while her own brother blames her like she wanted to kill Hilary and their baby.
What's Happening on the Young and the Restless
OMG! @Traceybregman and @CJLeBlanc! I don't know what I did today to deserve such a treat, but I'm grateful nonetheless. #YR

— soapcentral.com (@soapcentral) August 7, 2018
It looks like fans thought one day this week was nothing short of a blast from the past as they got to see so many of their old favorites having the time of their lives. More than a few fans pointed out that the Lauren and Michael sighting was one of their favorites, and they felt it was nothing short of a total treat. We agree, and we cannot wait to see this situation turn around and make everyone feel more comfortable about the way their own lives are going these days. It does make us happy to see that kind of excitement.
What's Next on the Young and the Restless
Get ready for a shocking twist you CAN'T miss this week on #YR! pic.twitter.com/NBJu3xPGc5

— Young and Restless (@YandR_CBS) August 5, 2018
Billy's life is falling apart a small moment at a time, and there is nothing he can seem to do to make it all stop. He's in a bad place right now, and he's not trying to make things better for himself. He's failing to get it together, and nothing about that surprises us. His secret project is becoming obvious to everyone around him, and we think that he is about to find out just how hard life is going to be for him. It's not going to end well for him, and there is little that anyone will do to protect him from what is to come in his own life. Summer is only making things worse for him, too. There's not much that she can do to protect him at this point, and we don't think she's interested in it to begin with.
We will also see that Victor wants to make some life changes. He's going to call a truce, and we have no actual idea what that means, how that will work, or what he has in mind for that. With whom does he want to call a truce? He's a man who has a lot of stuff to offer himself, but he constantly fails to do just that. He's not someone that we believe is out for anything good or positive, and that's interesting. Finally, we are going to see Nikki take things a bit too far with Sharon, which is going to turn around on her in a big way.
Stay tuned for more Young and the Restless and be sure to check out TVOvermind daily for the latest Young and the Restless spoilers, news, and updates.