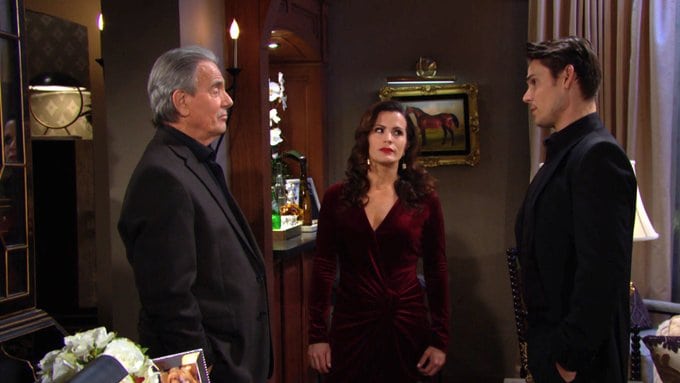 Young and the Restless fans know that Victor has to change the game when he can, and we don't even blame him for it. He has to make things good in his life, and he's good at doing in that in a way that allows him to make power moves. It's his MO and we are fine with that. It's what he just did, and we aren't sure it's going over all that well with anyone other than himself, but there is nothing that we can do about that. We can only hope that he can figure things out and get them right in his own life right now, but we also have to focus on the fact that his daughter is not in her right frame of mind, things are not working out for anyone otherwise, and it's a mess in general. However, we also know that Billy and Amanda are doing things their way.
They are nothing if not a couple of people who have been crossing some lines for some time now. They have both been going out of their way to do things that they know are wrong, that they know have serious consequences, and that they know cannot be taken back. However, they just crossed a serious line that might not allow them to come back at all. This puts them in a very awkward situation, and we are just wondering if there is a lot that they can do about this to fix it. It's not good for them, but they knew this when they made this decision. It's going to come down on them, and we know it won't come down well. We just have to wait and see who is going to find out what they did and how they did it before it happens.
What's Happening on Young and the Restless
"The future is now!" Join us in celebrating all of the incredible, fierce, and courageous women of @CBS on International Women's Day. pic.twitter.com/4Y1Dq37g54

— Young and Restless (@YandR_CBS) March 8, 2020
We are all about it.
What's Next on Young and the Restless
Relationships heat up and cool down this week on #YR! pic.twitter.com/6rTsDTgu6E

— Young and Restless (@YandR_CBS) March 1, 2020
We know that Sharon and Nikki are going out of their way to spend some time bonding. They have had such a rough time in their past with one another, and we do get that. Sharon was married to all of the men in Nikki's family — including her son and his brother and her own husband — and that makes it a little difficult for her to warm up to her entirely. We feel that from her, but we also know that Sharon hasn't had a thing with Victor in a long while, and she's living a rough life. Nikki knows that their differences are not going to keep them apart forever when there is something so much more important going on. This is a young woman who is battling cancer, and she's here for her.
We will see Nikki go far outside of her own comfort zone in the coming days, and this is something she feels she has to do. We are with her on that one, and we are not going to sit here and judge her for her choices or what she is doing. Devon, on the other hand, is working hard to build his empire. He's had a rough go of things for a while now, but we do assume that he is finally ready to put all of that in the past and work on coming out on top. We appreciate that, and we don't mind a bit that he's working so hard on that. It's good for him.
Stay tuned for more Young and the Restless and be sure to check out TVOvermind daily for the latest Young and the Restless spoilers, news, and updates.