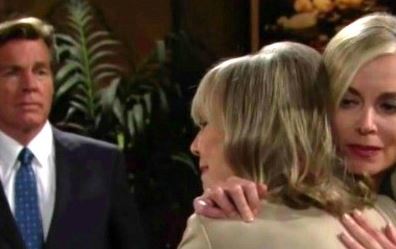 Young and the Restless fans know Dina's not all there right now. Her memory is shot and she's unable to make sense of about anything in her life at this point, and she's not making much sense in any manner. But she is adamant that everything that Jack ever thought he knew about his father is a lie. She is going to tell Abby that her son's real father has the name Graham, but we all know that this is certainly not the same Graham she's been spending her time with the past few years.
She's going to tell her granddaughter this story over and over, but Abby is having a difficult time proving it. Dina wants her to take her to the hotel she spent the night with this mystery man when she had her affair, but will Abby do it? She feels that it will help her remember the truth of what happened that night and how it might relate to Jack, and Dina is begging her to do it.
All she can talk about these days is what is going on with her son and his paternity. There is not a lot they can do to make this right in their lives, and there is not a lot he can do to make this go away. She will tell him that he might not have the father he always thought he had, but there is a chance she's also wrong about all of it with her confusion.