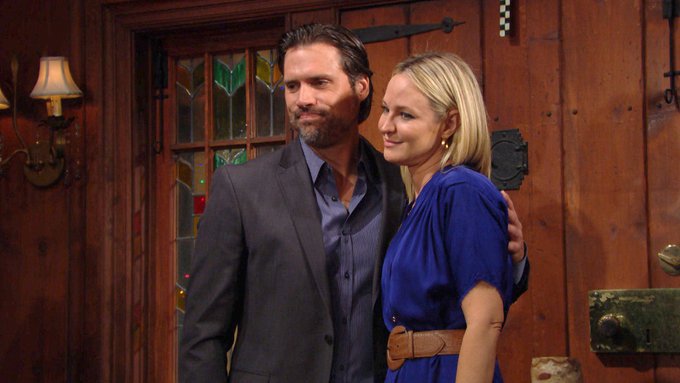 Young and the Restless fans are not sure that anything is more entertaining that watching Victor work on damage control situations. He's a man who has so many things going on in his life on an everyday basis, and now he is sitting here with so much more going on than he can handle. He's got Adam at the helm of whatever is going on right now, and he is not sure that he can focus on anything other than the fact that he knows he cannot handle this and that it is a major problem. Some of the many things that he has taken onto his shoulders right now are terrible, and we cannot figure out a way to handle this without it being something of a total mess. We know he has issues, but we also know that what he's trying to control is going to end up out of hand before much longer.
Chloe and Kevin are currently in a good place in their lives. They are having some good times, and they are living their lives to the best of their ability. They had rough times for some time. Their life was upended and things were made a mess for some time, and now they are finally getting to enjoy themselves. They are finally happy and living in a happy state, and they are having a baby to welcome into their family and their hearts. We were happy to see that they were celebrating this and that they were having a baby shower to make it that much more special. Things like this make us feel so much better about the way things are going, and that's what we feel is going to happen for them. They have so much to look forward to, and that makes us happy.
What's Happening on Young and the Restless
Join #YR for a special week with episodes featuring the iconic Genoa City matriarch Katherine Chancellor! Our "Katherine the Great" theme week starring Jeanne Cooper starts on Monday, April 27th. 👏 Learn more about it here: https://t.co/NegXuW8dKJ pic.twitter.com/116ZXcVP2u

— Young and Restless (@YandR_CBS) April 20, 2020
Yes, please.
What's Next on Young and the Restless
#YR is new this week with the romance you love and drama you crave! 👏 Don't miss it. pic.twitter.com/ZOmRaLSKfm

— Young and Restless (@YandR_CBS) April 17, 2020
It turns out that there are a few interesting things going on right now with both Phyllis and Nick. You see, they are hot and heavy right now, but they are both spending ample time with their exes and using them as motivation in the moment. Right at this moment is the fact that we can see that Phyllis is allowing Jack to motivate her in a few different ways. She's going to find that his influence is making her work harder and smarter than it has in the beginning of her new ventures, and she's going to spend a bit more time with him in the meantime, which is never good for them. Then, there is Nick, who was asked by Sharon to be there for her. She has a lot going on in her life, and this might not be the most amazing way for her to show things going on in a way that works out.
She's been motivated by him, and they are both spending a lot more time with a lot more people. It works for them, but we aren't sure it's working for us at all. On the other side of that, too, is Victor. He's causing some damage control issues, but are they working or are they just serving the sole purpose of keeping everyone else in line while this all goes down? We cannot be certain, with any of this, but we can be certain that there is a chance we might have other issues to contend with first.
Stay tuned for more Young and the Restless and be sure to check out TVOvermind daily for the latest Young and the Restless spoilers, news, and updates.