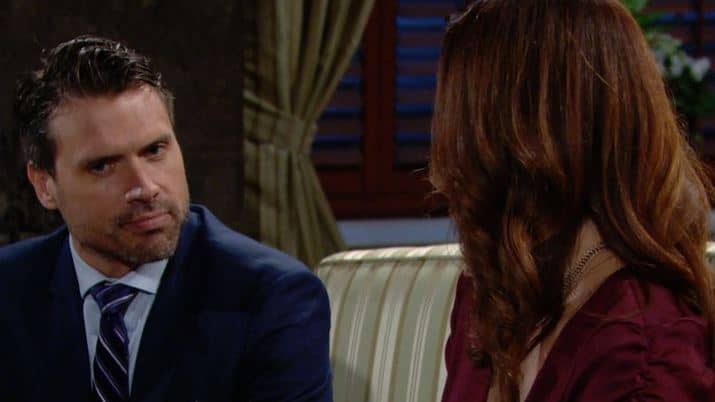 Young and the Restless fans watched Nikki struggle hardcore last week. She struggled with the way she was feeling about everything, and it was not good news. She's got some old demons back in her life, and they are there to haunt her in every manner. She's not looking to see anything that will work out in any other way but her own. She's got some of this happening, she's got her life to worry about in terms of what is going on with the investigation into what happened with JT, and she's got to worry that her daughter is in danger from all of this, too. We just cannot seem to get things to work out for her, but we can sit back and watch as she tries to figure this all out without her husband. He's not around, and that's not good for her. She's a little bit of a wreck, and that is bad news, too.
For now, though, we are all just curious about what is going to happen with Phyllis and Billy. Despite saying she is totally over him, she seems to support him and want to spend some time with him. And that's behind Nick's back. She's definitely sleeping with him and spending all her free time with him, but she's not being honest with him. She's keeping things from him, and he will not like it when he finds out about it. That's all right, though, because she seems not to care at all that things are not going to work out in her favor. She's a disaster in every manner, and we cannot even handle that happening in our lives. She's going to have some other issues to face, but she's got to get her honesty in check if she wants to succeed.
What's Happening on Young and the Restless
Cheers to the weekend! 🥂 What do you think is coming up next week on #YR? pic.twitter.com/i4z1Y9g8hY

— Young and Restless (@YandR_CBS) December 7, 2018
The weekend may very well be over, but it was one of the best in our books. So, we are still cheers-ing to that even if it is a few days later than it should be in any other capacity.
What's Next on the Young and the Restless
Here's the Genoa City holiday survival guide:
Cover your tracks,
Watch your back, and
Lawyer up! 👏

You're not going to want to miss #YR this week. pic.twitter.com/CKHRBlZgEj

— Young and Restless (@YandR_CBS) December 9, 2018
Cane and Victoria will do things their own way about things that will handle their lives, but there are things that they can do to make their lives easier. They will not work well together in some situations, but this is one time that they will work well together in their life. They have a chance to change things and work together to make sure things go their way and that they don't fall apart, and we hope that they can. She has to save herself, he needs to make sure his family is all right, and everyone is a mess. Phyllis is still lying to Nick. Billy is working against everyone, Nikki is a mess, and everyone else is falling apart. It's time for Victor to come back and clean house, if you ask us.
However, we don't know if he will be back anytime in the near future, and that's something we have to deal with. We have a feeling that this might be a situation that gets a lot worse before it gets any better, but there is nothing we can do about that. We know that things will work out for most people, but we don't know which people that they will work for. There's so much to question, so much to do, and so much to handle. This is not a good season for most people around here, and they don't seem to be handling anything as well as we thought they might. But who will come out on top and who will not?
Stay tuned for more Young and the Restless and be sure to check out TVOvermind daily for the latest Young and the Restless spoilers, news, and updates.
Tell us what's wrong with this post? How could we improve it? :)
Let us improve this post!