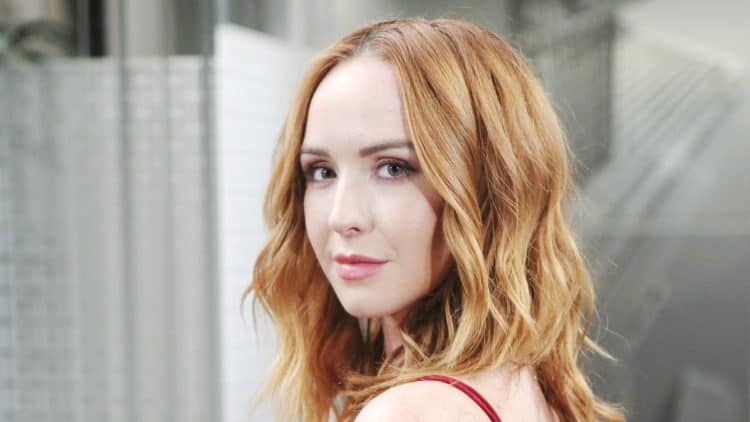 Young and the Restless fans want to know what is going on with so many people around here, but we really want to know what is up with Mariah. She's making some big moves that are not making many things seem okay in life, and we just cannot figure out what is going on with her sudden obsession with Summer and her single life. She never cared before who Summer dated, or even if she dated. So, we don't get it right now, and we don't know how to focus on anything but, and we have so many questions. But, we have to look back and think that some of her behavior might have to do with the people she's had in her own life who have made an impact on her, helping to shape her into the woman who she is today. Are these people going to change her forever, or was their impact temporary? We think these are some of the people who have had the most impact on her.
Devon
She once had a very boring relationship with Devon. There was not an ounce of chemistry between them, and they did not do a thing for one another. They were not good for one another, they did not mean anything to one another, and they were not going to give anything their all, if we are being totally honest. But, they were very sweet together in terms of clearly being good friends who just couldn't find the passion. They remain friendly, too, as they were both capable of admitting that they just didn't have what it took. We like to think that their relationship was one of the most impactful she's ever had because it's during this time she seemed to realize that being with a man was not something she was necessarily interested in, and that's a big part of her life.
Tessa
We don't like Tessa. Sorry, but it's true. She's not a good person, and she does bring out the absolute worse in Mariah. We love Mariah. She's funny, she's witty, she's smart, and she's the one who seems to have it all together in her family more so than anyone else. She's someone we want to see get the best of the best, but this is clearly not the woman for her. We do feel that Tessa is important because she is the first woman who Mariah has ever been with, which is something that will forever help to shape who she is as a person. You don't get to change your life this much and not allow that person to become someone who is important in your life. However, we do think that they are not the best couple, and that Tessa is nothing short of problematic for this woman.
Sharon
Of all the relationships she has in her life, the one she has with her mother is the most interesting and the most impactful. Sharon didn't know that her deceased daughter, Cassie, was a twin. She didn't know she was having two babies, or that one was stolen at birth by someone who worked long and hard to orchestrate this situation. When her daughter died, and this young woman was hired by Victor to torment her, she didn't know. It was found out eventually, but they took a sudden liking to one another even before they knew about their mother/daughter relationship. Her mother is a woman who has trouble in her life. She has grown seemingly less mature, more reckless, and more careless over the years, and we think that Mariah helps her to stay grounded. She keeps her mother on her toes and she keeps her sane.
Their relationship is so interesting because we feel it has shaped her in so many ways. She is so much more the mother to her mother than her mother is to her, and we feel that this is a lot like what is going on with Tessa. She's always looking to protect Tessa and keep her safe, and we think she mothers her much like she has to mother her own mother. It's not okay, but that is what they have developed with one another.