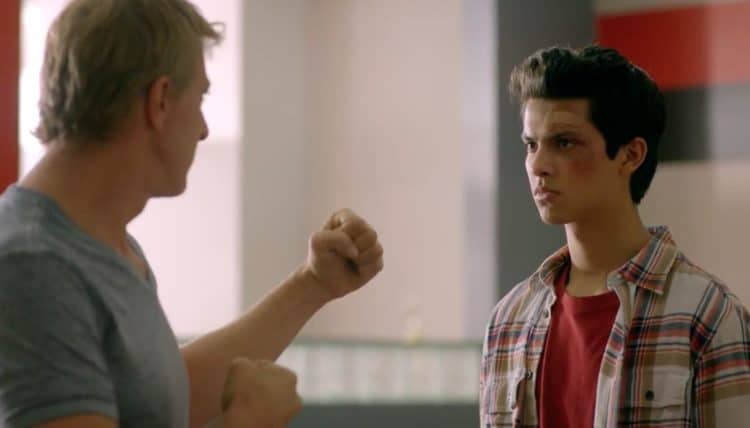 Xolo Mariduena may be just 19-years-old, but he's already a veteran when it comes to acting. He made his on screen debut in the TV series Parenthood in 2012 when he was just 11-years-old. While it's no secret that many young stars have trouble making the transition into adulthood, Xolo appears to be handling it like the professional he is. His most recent role as Miguel Diaz in the Netflix series Cobra Kai has given him a chance to show just how versatile his skills are. At the rate he's going, there's no doubt that Xolo is going to be keeping us entertained for many years to come. Keep reading for 10 things you didn't know about Xolo Mariduena.
1. He Started His Career Doing Ads
Parenthood may have been Xolo's first TV role, but it wasn't his professional debut in the entertainment industry. Xolo actually began his career doing commercials and print ads. He was 9-years-old when he booked his very first job which was a commercial for Sears.
2. He Loves Watching Movies
When Xolo was younger he didn't spend too much time watching TV, but by the time he was 10 he had discovered his love for movies. When asked about his favorite movies, Xolo said, "Number 1 is Ferris Bueller's Day Off, love it, it is my favorite John Hughes films. I love The Usual Suspects, the ending is phenomenal." He addd, "I love Up, Princess Mononoke (1997), and Ocean's Eleven (2001). I would say those are my top 5, not in any particular order, with exception of the first one. All the others are kind of tied for number 2."
3. He Wasn't Very Familiar With The Karate Kid Prior To His Audition For Cobra Kai
Xolo was born in 2001 which means he wasn't even thought of when The Karate Kid was released in 1984. He had seen the film once when he was younger, but it wasn't something that stuck with him. Needless to say, he wasn't that familiar with the movie when he first heard about the opportunity for Cobra Kai. However, after being cast for the show, he went back and re-watched the movie.
4. He Grew Up Playing Sports
Acting has been Xolo's main focus for most of his life, but also has other interests. He is very athlete and enjoys playing sports like basketball and tennis. He even did martial arts for a year when he was younger. Unfortunate though, he had forgotten most of what he learned by the time Cobra Kai came around.
5. He's A Very Humble Person
In many ways, Xolo's youth has been anything but 'normal', however, he hasn't let his star status inflate his ego. In an interview with Glitter he shared that has always lived a very humble life and his parents have made it a priority to make sure that he and his sister are well rounded.
6. His Name Has An Interesting Meaning
Xolo's name has a very unique meaning that also pays homage to his roots. He told Glitter, Xolo is name with Nahuatl origins, it's an indigenous language, spoken by millions still to this day, mostly by people of Uto-Aztecan origin. The name is a form of the work for Dog Star, or "North Star," Sirus. It's the brightest star in the Orion belt." Some sources have inaccurately reported that his name translates to God.
7. He Plays Dungeons And Dragons
Xolo may be a cool TV star, but he isn't afraid to express his 'nerdy' side every once in a while. Gaming is one of the things he likes to do for fun and he's a big fan of the classic game, Dungeons and Dragons. Not only does he like to play the game but he also attends local meet ups.
8. He's A Dodgers Fan
Supporting the local sports team comes with the territory of living in a major city. But as a Los Angeles native, Xolo has had to make a difficult decision: support the Dodgers or the Angels. Xolo is a die hard Dodgers fan and holds season tickets to the games. Unfortunately, things are a little different this season due to COVID-19.
9. He's Passionate About Several Causes
Participating in his community is something that has always been important to Xolo. While talking to Glitter he said, "I feel strongly about foster youth issues, immigrant's rights and also the need to create communities that are safe from gun violence on any level imaginable. I think that I lean towards civil rights issues because of our particular family values, so I try to stay connected with those issues that most impact Brown and Black communities."
10. He Practices Ifa
Xolo grew up in a home where faith has always been important. He and his family practice the Ifa/Santero tradition. The religion is practiced in several different parts of the world but is most commonly found in West Africa, South America, and the Canary Islands.