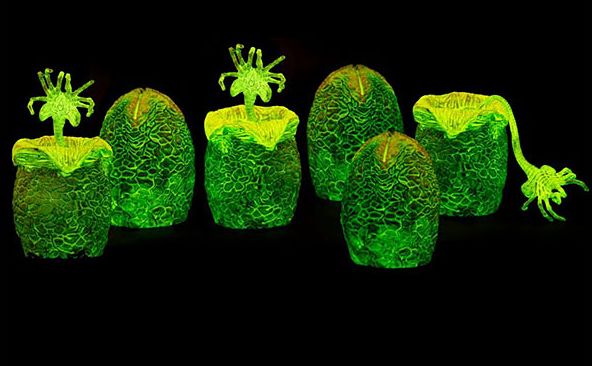 I never thought we'd be going for the Trifecta in Xenomorph products but here we are. Over a week ago we brought you the Xenomorph Pez Dispenser. Yesterday we brought you the Xenomorph Egg Cookie Jar which I mentioned happens to be killing it in sales on Amazon. Today? Today I'm even more surprised than the first two. May I present to you a Xenomorph Egg Carton that glows in the dark. Here's a description in case you have know idea what this means (I sure didn't).
Guaranteed free-range and cage-free, this set of a half-dozen Xenomorph eggs from Alien includes 3 which have hatched out the cutest little facehuggers. These glow-in-the-dark eggs come in a slightly-oversized but not-enough-to-be-noticeable-unless-it's-next-to-another-egg-carton container. That's why we suggest you wait until the next time you run out of eggs to slip these into the fridge to freak somebody out.
P.S. did you know there was an original version of this? Do you realize what that means? It means there was so much demand for this egg carton that people wanted a "newer" version? I have to meet the people that are actually buying these Xenomorph products. On second thought maybe I don't want to meet them.