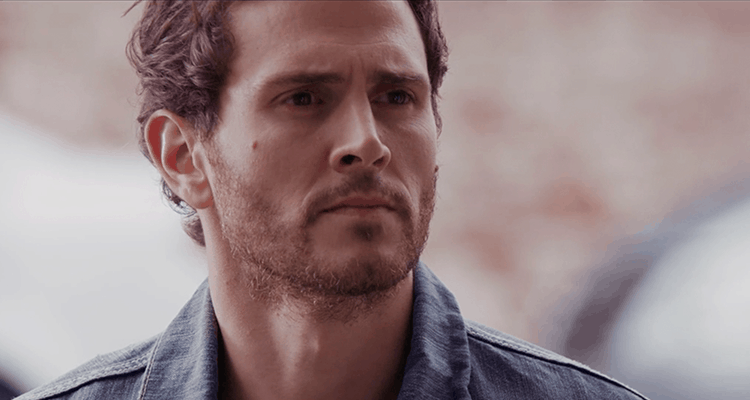 Wolfgang Weber is a charming actor who hails from Canada and now resides in Los Angeles, California pursuing his career in the film and television industry. He can be seen in the television feature films in "Cynthia", "Interpreters" and Lifetime's "Devious Nanny". Below are 10 things you may not know about Wolfgang Weber…
1. Wolfgang was considered for a role in Jason Statham's Wild Card
Wolfgang was helping a friend prep for an audition for the role of Danny DeMarco. Although Wolfgang wasn't called in for the actual audition, by the time he finished helping his friend prep, that same night he went home and self taped the scene. The next day he had sent it over to his manager at the time to forward it to casting for consideration. Casting ended up liking his performance so much they ended up putting him on stand by. The role eventually went to Milo Ventimiglia, unfortunately it just wasn't meant to be.
2. Is an FAA licensed drone operator.
That's right! Most actors almost always have a day job whether it's serving tables or driving for Uber. When Wolfgang isn't on screen he's often onset behind the camera operating one of his drones. AIRWOLF™ is actually his company name and has provided aerials for clients such as Beyoncé, Adidas, U2, Pusha T and more.
3. Was a professional Discus thrower.
All throughout high school he participated in many sports, but really excelled at the track & field event Discus. He was able to attract schools for scholarships such as Florida State University and Cincinnati University. In the end he decided to leave his Discus career behind and pursue his acting career instead. In doing so he flipped his life around and loss over 90lbs. He also still holds his high school record after 17 years.
4. Loves to travel.
When he has the time, he loves to explore. In fact, he made a docuseries of he and his wife's honeymoon. They visited Fiji, Australia and New Zealand and uploaded the whole series onto his YouTube Channel.
5. Wolfgang recently married.
He married a Cuban/Spaniard teacher back in 2016 and they reside in Los Angeles California. They're planning on starting a family in the near future.
6. Filmed himself as Barry Allen for CW's "The Flash" in hopes of getting an audition.
When CW was in the process of casting The Flash, Wolfgang put together a small crew consisting of his friends and went out and filmed himself as Barry Allen. Even though he didn't get the part, the short film did end up getting over 80k views on YouTube.
7. Officer Weber!?
While in career limbo Wolfgang was working as a juvenile corrections officer in Bradenton Florida. On his cellblock the inmates often referred to him as officer happy and officer Jim Carey. Wolfgang did end up moving forward to the police academy but his passion and drive for acting were conflicting with the strict scheduling of law enforcement. Maybe Wolfgang's short run in law enforcement wasn't such a waste time, since he's frequently cast as a cop.
8. Wolfgang is in Josh Groban's latest Music Video River.
Everyone has got to get their start somewhere and being the leading face in what seems to be one of Josh Groban's most popular videos will definitely help.
9. Other projects aside from TV and film.
Wolfgang has appeared in a handful of comedic YouTube skits with social media personalities such as Anwar Jibawi, Lele Pons, Inanna Sarkis and Fousey Tube. It seems like lately there's been a lot of actors, even the heavy hitters making the transition over to online video content. Maybe we'll see more in the future from Wolfgang on his own YouTube Channel?
10. Wolfgang is 35 years old
He's done a fair amount throughout his life, but he's probably in his prime at this point and it looks like he's definitely taking advantage of every opportunity that continues to come his way.
Wolfgang Weber's bio:
Wolfgang Weber was born in Ottawa, Ontario, Canada, but grew up in the small town of Perth just outside of the city. He's one of 4 brothers. His father Wolfgang Weber Sr. is a retired Mechanical Engineer and his mother Catherine Weber, worked as a stay at home mom.
Between 2004—2008, Wolfgang's first TV appearance was on the CTV Canadian mini series "H2O" and soon after he moved to Florida in pursuit of his acting career. While there he had booked small forgettable roles in a variety of commercials, shorts films and features. However, his run of luck led him to second guess his acting career and embark on a career in law enforcement.
After being denied time off for an audition, he decided to quit his job and go full force into acting by moving to Los Angeles, California leaving his law enforcement career behind. For the first seven months he stayed in a hostel in South Los Angeles, and had lied to his parents about his living situation to not worry them. It was only a few days and Wolfgang had signed with a manager. From there he landed co star roles on various shows such as Cartoon Networks "Incredible Crew" & "CSI Miami". Wolfgang was finally seeing the light at the end of the tunnel by being cast in the thriller "Into the Darkness" starring alongside Twilight's Kiowa Gordon, but due to financing issues, the film never got made after a year's worth of press. Since then Wolfgang has starred in many indie films like "All American Zombie Drugs", "The Magicians Son", "Resurgent" and can be seen on a variety of hit YouTube Channels. You can also catch him in the features "Cynthia", "Interpreters" and Lifetime's "Devious Nanny".