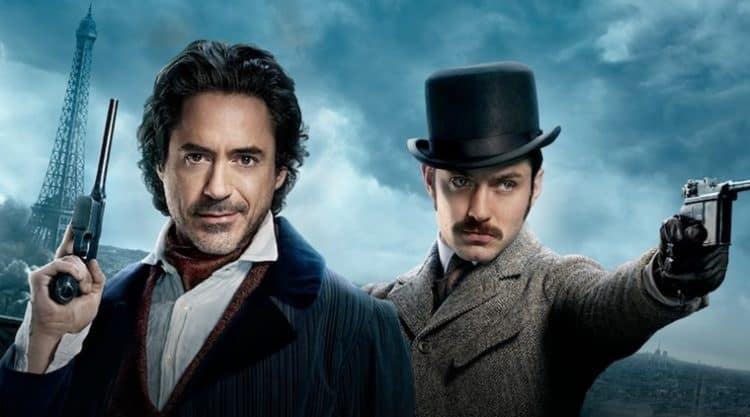 News from earlier in March has stated that Warner Bros. has officially pushed the release of Sherlock Holmes 3 by a full year. The installment starring Robert Downey, Jr and Jude Laws's portrayal of the famous detective and Doctor John Watson was moved from the 25th of December, 2020 to December 22nd, 2021. The development of the third film has been delayed for a long time, and this isn't the first time the movie has been so close to production only to go through one delay after another. This has been going on for nearly a decade, and fans are wondering if the movie will actually be made, but what makes the whole thing worse is no director has been firmly attached although Chris Brancato has written and drafted a script for the movie, though the film is definitely being produced by Susan Downey, Lionel Wigram, and Joel Silver.
However, some people are convinced the movie will never actually be made, which is tragic since it would be great to see what has happened after the second movie. However, it seems clear Sherlock Holmes 3 will be aired a decade after the second movie "Sherlock Holmes: A Game of Shadows," which also featured Noomi Rapace and Jared Harris, which grossed at around $545.4 million at the box office worldwide. The original Sherlock Holmes movie, which also starred Rachel McAdams as Irene Adler, which was released in 2009 globally grossed $524 million. Both of these movies were directed by Guy Ritchie.
Originally Sherlock Holmes 3 was scheduled to go into the Christmas slot in 2020, along with James Cameron's Avatar 2, which is scheduled to be shown on the 18th December 2020. Sherlock Holmes 3 was supposed to appear on the 25th December 2020, but now The Hollywood Reporter has announced Warner Bros. has changed their minds. However, the delay could be related to the two leading actors's already pressing commitments – Robert Downey, Jr is busy with the Marvel cinematic universe in his role as Tony Stark who plays the hero Iron Man and is going to appear in "Captain Marvel and Avengers: Endgame," though Downey has other commitments as well. He has The Voyage of Doctor Dolittle which is currently wrapping up production, and he also has a reboot of Perry Mason in the works, which is going to be produced by HBO.
Guy Ritchie isn't expected to return as his role as director to close the trilogy, and as stated above no director has been revealed yet, though some people do expect Ritchie to be involved. Whether this happens or not, no-one can tell. Some people will suspect he will want to return following his Aladdin remake and will want something more familiar for him to work with. For some time Robert Downey, Jr has been teasing the release of a Sherlock Holmes 3 on and off on his social media accounts, and now that his Doctor Dolittle film has wrapped up production, it appeared he was ready to return as the iconic detective based on the works of Sir Arthur Conan Doyle for a third instalment.
The two Sherlock Holmes movies directed by Guy Ritchie are following a trend as both the BBC and CBS have produced two modern takes of the detective in 'Sherlock' and 'Elementary' respectively, involving new takes on the characters while giving us equally modern takes on the classic stories of Arthur Conan Doyle. It is unclear at this time what the new plot of Sherlock Holmes 3 will hold, and we don't even know what it will be titled. However, Jude Law has recently revealed the story will be propelled forward, but its also possible Watson and Holmes have separated for some time, as Law has stated during the tease he gave the movie will play up to the fact neither Holmes nor Watson have seen each other, and the movie will explore that.
Indeed, in the first two movies, Jude Laws' Watson very reluctantly aided his friend Holmes as he felt the detective brought nothing but stress and violence into his life, and he just wants to lead a quieter life with no investigation of seemingly impossible mysteries dropped into his life, and although this just a rumour, its been hinted the third movie will explore this particular theme, which will be made more interesting given more time has passed.
Tell us what's wrong with this post? How could we improve it? :)
Let us improve this post!