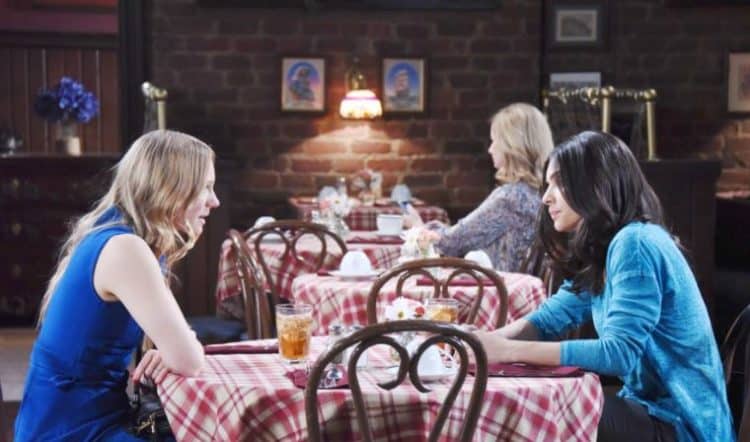 Days of Our Lives fans are not surprised that Ben and Ciara are growing closer together, nor are we surprised at all that there is a situation brewing with Abigail and Gabi. Abigail has no idea that Gabi wants to get revenge on her for what she did when her personalities were clashing, and we just know she's going to take that confession that Abby gave her and use it to her own advantage. She told her friend she's pregnant, and then she told her friend she has no idea who her baby's daddy really is. It might belong to her husband, Chad, or it might belong to his brother, Stefan, whom she had an affair with when she was overtaken by her Gabby personality. Either way, Chad doesn't know she's pregnant And she's told Gabi all about it. Is this the end of Chad and Abby? We don't know.
And then there is the fact that Hope finally realized that there is a chance her daughter is with Ben. She confided this to Rafe, and they are looking for them with all they have. However, it's not going the way they planned it would go. They have so much more to do than they realize, and it's not going well for them at all. We know that there is a good chance they will have to deal with something that will turn out to be a bigger mess than it is, but Ciara is growing very close and comfortable to Ben as the days pass. She's feeling good with him, and she likes it. She's injured, she's upset, and she's not going to let his past ruin how she's feeling right now. Her mother is going to lose her mind, but we will deal with that when it all comes.
What's Happening on Days of Our Lives
Not a bad job shooting this for you @marybeth_evans1 Bonus footage of some of our original supporters, in the background @KathyJarvis1 Linda Pidutti, "Lakeside Linda…teacher extraordinaire, Patty Yokum @pyocom Liz Karacuschansky @nicholsevansfan… https://t.co/UyMFD1q1bX

— Stephen Nichols (@officialnichols) June 26, 2018
Kayla is doing all she can to get her husband his sight back. Steve has been in a bad place lately, but we don't know what else to say other than we are all shocked by the news coming out of the show lately. It turns out Days and Stephen Johnson can't come to a contract agreement with one another, and that means they are going to let him go. The elusive Steve and the lovely Kayla are a staple, and it breaks our hearts to hear that he is out of the show.
What's Next on Days of Our Lives
Next comes a lot of drama, but that's not entirely unusual. It's time for Tate's custody hearing to start, and it's ugly as you imagine it might be. Theresa is doing all she can to take her son from Brady, and we can't even understand it. She took off without him, she hasn't been back in a while, and things are not good for her. She can't just waltz back in here and take him back, but that's what happens more often than not, so she might be able to make it happen. Either way, there is more than a little tension when it comes to how she's feeling and how Brady and Eve are feeling about the situation. She's going to do anything she can to get him back, and that's all there is to it.
We also know that Leo is growing increasingly desperate, and he's looking for Sonny. He can't seem to find him at the moment, but we don't think that Sonny will give him what he wants regardless. This man has done something awful to him, used him, and then worked very hard to blame him for things that aren't good at all. And now he wants to be there for him and see if they can make things work? It's not going to happen, and we simply are not surprised to see that this is not going to work. Leo will look for him, however, and hope that he can get this to work to his own favor. We doubt it; Sonny isn't going to fall for anything again.
Stay tuned for more Days of Our Lives and be sure to check out TVOvermind daily for the latest Days of Our Lives spoilers, news, and updates.