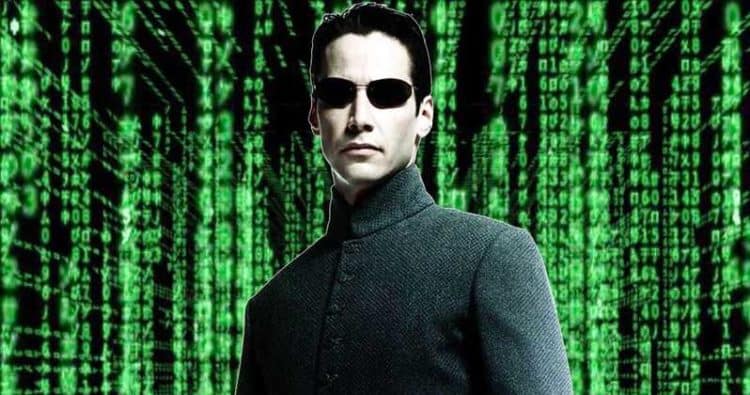 Before the John Wick days, everyone and their mother knew Keanu Reeves as Thomas Anderson, better known as Neo. He's barely even called by his real name throughout the Matrix trilogy, only referred to as "Mr. Anderson" by his arch-enemy, Agent Smith. And just think about the fact that Will Smith almost played this character before Keanu Reeves was given the role. If he didn't turn it down, we probably would have never of seen Keanu Reeves reach his original stardom status. Just think about the roles Keanu Reeves had before Neo and before John Wick was even an idea. Other than the Matrix, Mr. Reeves was in some popular action flicks like Point Break and Speed, along with more serious movies like Bram Stoker's Dracula. Okay, so he was cool in Point Break and Speed, but we all have to admit that listening to his English accent in the Dracula movie was hard to not laugh at. Hey man, we can talk about Keanu and his habit to overact, but we don't care. We all love this dude and good or bad movie, he still never fails to entertain us.
For me, I always loved watching him. And yes, that was long before the current glory days of John Wick. If you were a Keanu fan before he became John Wick, you're breathtaking. Understand the reference? Of course you do. The point is, Keanu Reeves has a lot more on his resume than John Wick. After the Matrix trilogy ended, his career seemed to have taken a downward spiral and he wasn't really in anything that anyone saw. He had his directorial debut, Man of Tai Chi, in 2013, and also 47 Ronin that same year. No one really saw those, which is kind of unfortunate, considering the former was actually pretty entertaining. A year later, however, Keanu Reeves rejuvenated his career with the famous hitman role in one of the greatest action movies ever. With him killing it as John Wick these days, it's easy to forget his former glory days as Neo. I mean, the last Matrix movie came out back in 2003 and it wasn't exactly a huge hit with audiences. And sadly, neither was its predecessor, Revolutions. The first Matrix was by far the best in the trilogy and one of the greatest movies ever. The John Wick trilogy, on the other hand, has three good movies that most audiences really enjoyed. With a fourth John Wick movie on the way, it looks like we'll be basking in more bloody John Wick fun. I'm all for it, but we just can't forget about Keanu's other signature role.
The Matrix: Resurrections will be released on December 22, which is very close. I'm beyond excited for the return of this franchise and I hope this next movie is as good as the first one. We'll certainly find out soon, but I just can't help but wonder about Neo. And no, I don't mean in the sense on his status. By now, we can probably guess that Neo really didn't die by the end of Revolutions. Or maybe he did, but honestly, it's pretty hard to figure out as of now. The logic in the Matrix movies has always been very confusing and we shouldn't overthink it. It's a super fun science fiction action movie trilogy with killer wire Kung Fu fight scenes. There's really no need to overthink how the Matrix works. But you know what? I am wondering if Neo will surpass the popularity of John Wick as Keanu Reeves' best character. I think it's a fair topic to think about, especially since we'll be getting Resurrections very soon and the next John Wick movie next year. And let's just remember that both movies were originally supposed to come out on the same weekend earlier this year. Holy smokes, that would of been a glorious Keanu Reeves weekend. But that honestly doesn't matter, since we'll be getting both of his signature characters this year and next year.
I'm just wondering if Keanu Reeves fans will put Neo on the same popularity level as John Wick. It's basically a battle between young Keanu and old Keanu. But who am I kidding? Keanu Reeves never gets old. Like, never. The dude is basically a vampire. That's good for us, because we could be getting more of Neo and John Wick for the next few years. I mean, that does depend on what happens after Resurrections and John Wick 4, but we just want to bask in more Keanu Reeves glory. With that in mind, I feel like fans who see Resurrections in the next few weeks can see a whole new Neo. From the trailers, it seems like he's confused and doesn't even remember what happened during his time as Neo. This could be very interesting for the Matrix fans, but I think we'll see a wiser and more powerful Neo than we did in the trilogy. This character is also far more level-headed and merciful than John Wick, so there's the contrast between them. The differences between these two signature John Wick characters can determine how fans grade their popularity levels.
As of now, I do think more fans are used to seeing Keanu Reeves as the Gun-Fu hitman. Who can blame them? I'm a part of that fanbase, but as a guy who grew up seeing Keanu Reeves dodging bullets in slow-motion as Neo, I would like to see that character appreciated as much as John Wick. The Matrix trilogy isn't as good as the John Wick trilogy, so I get it. With Resurrections coming up, I hope it puts Neo back on that radar. Maybe we're just too used to John Wick, but we can't forget Keanu's first signature role. I honestly don't think Neo will surpass John Wick's popularity, but does it matter? I don't think so, because we can appreciate the old while living with the new. But again, if Will Smith didn't turn down the role of Neo, I do believe we might never have seen Keanu Reeves become John Wick. Just think about that.
Tell us what's wrong with this post? How could we improve it? :)
Let us improve this post!