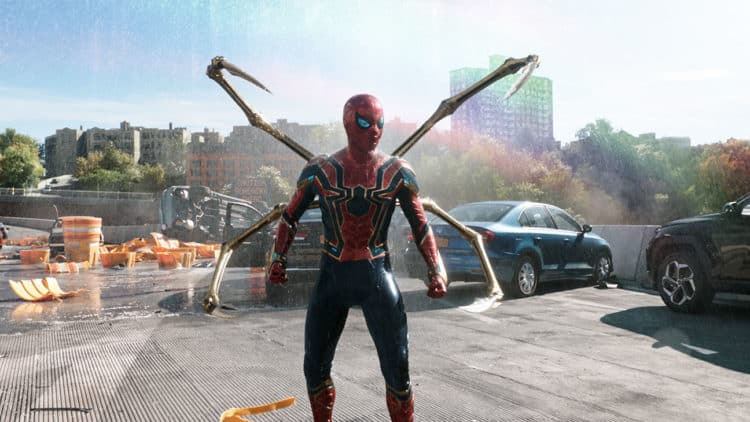 Since Tony Stark is gone, is Happy Hogan, his former bodyguard and chauffeur the closest thing to Peter Parker's new mentor? We know that Ned is his best friend and is most loyal supporter. Would it be fair to say that Ned is the most important person in Peter's life? Every Spider-Man fan knows that on regular terms, that person would have to be Aunt May, although in the Marvel Cinematic Universe, he doesn't spend much time with her on-screen. Maybe it's because he spends a lot of time away from home? That raises a lot of questions for how their relationship is going to be affected by the end of No Way Home. Spider-Man: No Way Home will be released next week and I know everyone is excited. Of course, we know about the two elephants in the room, who we know will be in that room. It's no secret at this point, but I think fans are overlooking the supporting characters of Tom Holland's Peter Parker. This is still ultimately his movie and there's a lot of speculation on where his story will go after No Way Home. I have this bad feeling that things won't end too well. No, I'm not saying Tom Holland's Peter Parker will meet his demise. According to Amy Pascal, there's another trilogy being planned after No Way Home. And on top of that, he might actually stay in the MCU after all.
We have to remember that the Multiverse has emerged in the MCU, and Kevin Feige has said that Spider-Man is the only character capable of bouncing around multiple universes. The Spider-Verse that Sony has created will surely welcome him, but he might have to leave some loved ones behind. Or, to put it more accurately, they will likely leave him. Now if you've seen the latest trailer, you probably saw Peter making a desperate attempt to save MJ from falling to her death. If you're a Spider-Man fanatic, you know what that mirrors. Heck, Sony already mimicked this in The Amazing Spider-Man 2 with Gwen Stacy. It was, for the most part, accurate for comic fans, but we just didn't feel the impact that it should've had. Since Sony tried this once before, would they do it again in No Way Home? Maybe so, but I actually think this deliberate foreshadowing of MJ falling to her "death" is a misdirect. Sure, she can still meet her demise, but I think Sony plans on killing off someone else who is close to Peter.
The top two candidates I have in mind are Happy Hogan and Ned. Losing Ned would be a devastating blow for Peter. He is his best friend, but in both of Spider-Man's movies, he has been with Peter almost every step of the way. Ned would act as Peter's sort-of sidekick, his inside man, his tech support, and his moral support. He even saved his life from Shocker using his web-shooters. Having Ned around is certainly crucial for Peter, but he also has Happy. Happy was one of the few people who knew about Peter Parker from the beginning. And before he even put the Spider-Man suit on, Happy acted as Peter's surrogate uncle. He was annoyed at the task of constantly escorting Peter around in the beginning and just making sure he wouldn't share his introduction video with anyone. And under the orders of Tony Stark, Happy was responsible for making sure Peter was responsible with the suit. That was a task he didn't enjoy doing, but he secretly knew that Peter had a lot of potential. This was all proven by the end of Spider-Man: Homecoming and by the time Far From Home came around, Happy took it a step further. How did he do it? Oh, just by dating Aunt May without Peter's knowledge.
Peter had some issues with this, but I think he secretly welcomed it. But let's remember who Peter called when he was nearly killed by Mysterio and lost in the Netherlands. Happy answered the call and knew private things about Peter that caught him off guard. A good way to prove that he wasn't an illusion, but the real touching moment came when Peter's morale was at a serious low. That's when Happy came in like a true uncle-figure and reminded Peter that even the greatest of heroes make mistakes. And of course, we can't forget the hilarious sequence of Happy saving Peter's friends. At this point, Happy is a part of the Parker family as much as Ned is. After losing Tony Stark, Peter needs these two supporting figures to keep his morale up. So what would happen if Peter were to lose either one of them in No Way Home? What if he actually lost both of them? That would be a devastating end to this trilogy, but if it's going to end, it has to have that dramatic impact. Remember when the first one tried that and failed? And The Amazing Spider-Man movies never even got to a trilogy, so Tom Holland's movies have that chance to correct that.
I just have that feeling Happy will be the one to die when the new villains show up. At one point in the second trailer, Peter is sobbing and in tears as he confesses to MJ that he can't save everyone. Why would he say that? It's probably because someone close to him was killed by one of the villains crossing over to his world. I don't think it's Ned, since he appears in the final battle in the end. What if Happy dies in his car and this is where the story takes a big turn? That would surely set him down a dark path and if he were to lose Ned in the end, it would break him completely. Not even the consoling of MJ would prevent him from setting out for revenge. Like I said, this trilogy is setting up a lot, so it must end on a serious note. We don't know where Peter's journey will go next, but losing Happy and/or Ned will change him forever. What are your thoughts, Spider-Man fans? Do you think Happy or Ned will meet their demise in No Way Home?