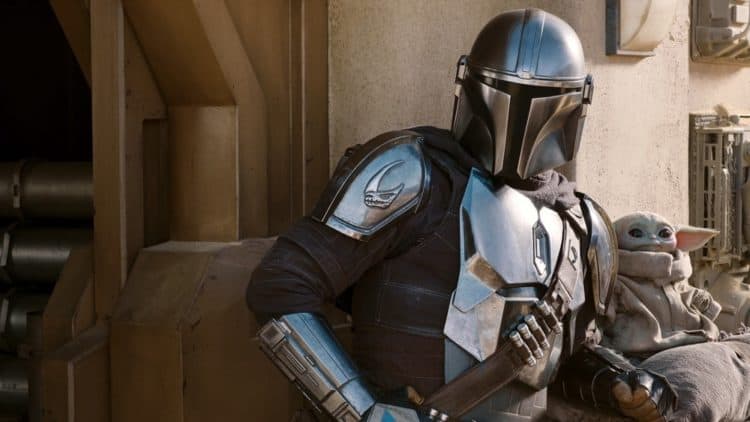 It looks like the Mandalorian himself, Din Djarin, took centerstage for this week's episode of the Book of Boba Fett. In fact, oddly enough, Boba Fett didn't even make a single appearance. About ninety percent of the episode felt like an episode of the third season of The Mandalorian. By the way, I hope that starts production soon because last I checked, it was being put on hold. Times are still different and we still have to learn how to live with it. But one of the best things about being stuck in quarantine was watching some quality streaming shows. One of those shows was The Mandalorian. Can we Star Wars fans just recall that glorious moment when Boba Fett got his armor back and devastated a whole squadron of Stormtroopers? Yes we can and we'll never forget it. And I was kind of hoping he would fight Din Djarin, or Mando. Whatever you want to call him, he just keeps reminding us why we can't stop rooting for him. Out of all the very tough Mandalorians, he's the underdog. This latest episode of the Book of Boba Fett reminded us yet again. The opening scene had him fighting some thugs using his melee weapons. As we all remember, he had the spear and the Darksaber. Looks like Bo-Katan actually allowed him to walk away with it. I actually doubt that was the end of that story, but we'll have to wait for the third season of The Mandalorian for that.
When Din Djarin did break out the Darksaber, he actually struggled to use it. In fact, he actually cut his own leg with it by accident. It didn't stop him from killing all the thugs and collecting his bounty, but what was interesting about it was how he was getting used to his new weapon. According to him, the Darksaber only got heavier with each swing. He does have skill with it, but the heavy weight it gives slowed him down quite a bit. We actually got to see a closer look at that during his training regiment with his former leader, the Armorer. Yes, the Mandalorian creed leader has returned. Oh, but that's not all. A former rival of Din Djarin made a surprise return as well. The heavy Mandalorian warrior from the first season did survive the attack on their hideout and found a new one with the Armorer. And now, we have finally learned of his true name. This very big and very confrontational Mandalorian is Paz Vizsla, a descendent of the legendary Mandalorian Jedi Tarre Vizsla. Interestingly enough, that's also the same man who forged the Darksaber. Understandably so, Paz Vizsla felt the need to challenge Din Djarin for the right to wield the Darksaber. These two Mandalorians finally got to duke it out and it did not disappoint.
Din Djarin isn't the biggest of the Mandalorians and on top of that, he doesn't even feel like he can use the Darksaber. But still, that didn't stop him from accepting Paz Vizsla's challenge. It was a tough fight that he almost lost, but he managed to defeat his much bigger adversary. Even before that, the Armorer gave him a lesson on how to properly use the Darksaber in combat. It looks like there's a lot more to it than just swinging and slashing. Even though Din Djarin won the duel, he confessed that he removed his helmet, which resulted in him being expelled from the creed. He can still find redemption in the mines of Mandalore, which I'm guessing we'll see in season three. I can't wait to see that, especially if he reunites with Baby Yoda. Yes, he was mentioned, but only by name. The rest of the episode saw Din Djarin return to Tatooine to find a replacement for his destroyed ship. After some manual labor with an old friend, Din Djarin had a visitor. Boba Fett's right-hand, Fennec Shand, came to him with an offer he couldn't refuse. She and Boba Fett need muscle for the imminent war with the Pyke Syndicate, so who better to help them out than their former companion? Another Mandalorian is a great recruit for Boba Fett's army, but I really don't want Din Djarin to overshadow Boba Fett in his own show.
Now that's really saying something. You know you're a cool Star Wars character when you can possibly overshadow the Fett man. And let's be honest, this episode is actually one of the best ones of the series so far. As of now, it seems to be hit-or-miss with Star Wars fans, but I have a feeling Jon Favreau is building up for something super epic. I mean, Boba Fett has Danny Trejo teaching him how to literally ride a rancor. If the idea of Boba Fett riding a rancor doesn't excite you, than I will call you a liar right now. I'm glad we're getting Din Djarin bak sooner than expected, but what can give Boba Fett more attention? The answer is just about everything that he can do, and once again, that includes riding that rancor. Seriously, that just sounds so ridiculously awesome. If they were to fight right now, then that means Mando would have true underdog odds. For all we know, that fight could still happen, but I enjoy watching them be partners. I think what we really need is a scene similar to the one from Boba Fett wearing his armor again and plowing through Stormtroopers. That will have everyone fixed on him and we'll once again forget that Din Djarin is in the room. This time, it will be for Boba Fett's own show and that's where he'll have his greatest moment. What are your thoughts, Star Wars fans? If you haven't watched the latest episode, then go check it out and hear the Mandalorian theme once again. That will surely bring back some memories and best of all, we're still getting more. This is the way.