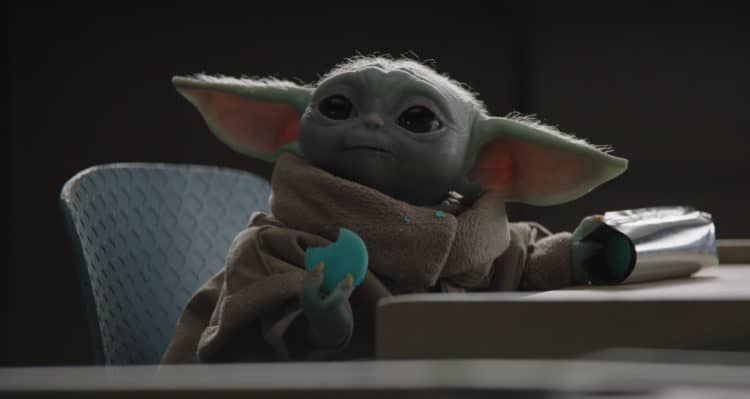 If you saw the last episode of the Book of Boba Fett, you got a good look at Baby Yoda training with his new master, Luke Skywalker. So far, he's learning how to jump, how to dodge blaster fire, and use the force. It's the basics of becoming a Jedi and our little fella is taking those steps to become an official Jedi knight. It seemed the training was going well, until his adoptive father-figure showed up and dropped off a present. Boy, I just have to say, watching those scenes reminds me of when George Lucas actually didn't make his characters literally say every single thing that they were feeling. Even when they wore helmets, you can just tell what they were feeling just by looking at them. For the record, I am pointing out that dreadful scene from the re-edited version of Return of the Jedi. You know, when Darth Vader yelled that infamous "NOOO!!!" right before throwing Darth Sidious to his demise. Oh my sweet potato fries, it was just so hard to appreciate the rest of the movie because of that. You know you feel the same about it. We all love George Lucas, but come on man, why would you ruin such an amazing scene? Luckily, the directors behind the Mandalorian remember the old ways and know how to show Mando's emotions behind the helmet. A lot of that is because of his interactions with Baby Yoda, or Grogu, his real name.
Just out of curiosity, how many people actually call him Grogu? We know it's his real name, but we didn't find that out until season two. I really don't think many fans really care, because Baby Yoda is just so much better. You know, because he's a baby and he looks like Master Yoda. What else can you possibly call him? Absolutely nothing. This little guy is the new mascot for Star Wars and will likely remain the mascot for years to come. I really don't see how they can make anything cuter than this. But Baby Yoda just can't be cute, he needs to learn some stuff. Just enough to make him a full-fledged Jedi. Speaking of which, the last episode of the Book of Boba Fett ended with Luke giving Baby Yoda a choice: he can accept the gift Mando left for him or he can accept the gift Luke offered him. Mando had some chainmail forged out of Beskar just for him and it looks pretty cool. And as for Luke, he actually had Yoda's green lightsaber ready for him.
So, Baby Yoda is now faced with a very heartbreaking choice that could change everything. And I'll just say right off the bat, I think we all know where it's heading, thanks to the sequel trilogy. Luke told his new pupil that if he accepted the Beskar chainmail armor, then he can return to the Mandalorian. Sounds touching, but the downside is that he would have to abandon his Jedi training and never return to Luke. Ouch. That's pretty low, Luke. But, if Baby Yoda did accept adult Yoda's lightsaber, he would be Luke's first student of his growing Jedi Temple. Oh, and he could never see the Mandalorian again. Jeez, Luke. Just seeing that sad, heartbreaking look on Baby Yoda's face was enough to smash your heart in a thousand pieces. We can tell he's conflicted and whichever choice he makes, it will have a great affect for all characters. And you know what? He didn't even have to talk. See the difference, George? Oh, I know you do. Okay, so I know the Book of Boba Fett briefly forgot it was a Boba Fett show. But let's be honest here, how is this not the perfect set up for the third season of the Mandalorian? When Mando is done helping Boba, I'm sure he'll turn his attention back to the little guy. The question is, who will Baby Yoda choose?
This is a tough choice between the legendary Luke Skywalker, his teacher who will allow him to be his first student, and the Mandalorian, the man who rescued him from a horrible fate and became his surrogate father. Okay, if Star Wars never made you cry before, then The Mandalorian sure made the waterworks run. If not, then your blood is as cold as ice. But hold on, I think we're all as conflicted as Baby Yoda is on this choice presented to him. It's either Luke Skywalker or the Mandalorian. Who does he choose? Okay, so back to what I said about the sequel trilogy. We all know what happens to Luke Skywalker and his Jedi Academy. To put it lightly, it didn't last long. Again, we all know why, and it's because his crazy nephew went rogue and destroyed the temple, not to mention he took a handful of his students with him. Okay, to be fair, it wasn't completely Ben Solo's fault. Luke did try to impale him with his lightsaber, but at least he pulled back. That didn't stop Ben from trying to kill him and destroy his temple. How many students did he kill, by the way? Maybe The Last Jedi should have touched on that more, but I guarantee you Baby Yoda wasn't among the dead.
In fact, there's a big chance he wasn't even there. After seeing the choice Luke gave him, I have a strong feeling Baby Yoda decided to be with Mando. Because if he didn't, then that means he was with him when his nephew went rogue and killed his fellow students. Well, I for one refuse to believe that Baby Yoda died at Kylo Ren's hands. I mean, is it safe to assume that our little green hero can become more powerful than Kylo Ren? Heck, maybe these two even met when the young Ben Solo joined Luke's temple? That could have happened, unless he decided to leave the temple and be with Mando again. I personally think Baby Yoda will ultimately decide to be with Mando. However, I would like to see what will happen if he stays with Luke. Anything can happen and no matter which choice he makes, it will affect all of these characters in ways we might not expect.