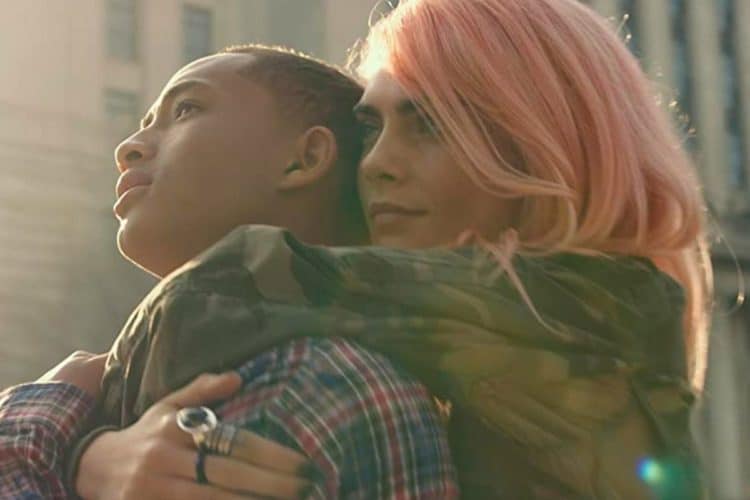 It feels as though there haven't been a lot of positive things to say about Jaden Smith or even Cara Delevigne in a while, maybe that's accurate or maybe it's not, but Life in a Year is a good reason to start looking at these two through different eyes since this story feels powerful in a way that could help bring them back into the spotlight in a big way or simply remind people that they've been special for some time. The story revolves around two young people played by Smith and Delevigne that end up caring deeply about one another, despite the fact that Isabelle fights the relationship initially for reasons she doesn't fully disclose right away. Daryn, who is a planner, someone that has everything laid out as far as he can, is not the type of live in the moment character that Isabelle would normally hang out with it appears, but when people meet there is usually some quality noticed by one or both of them that can't be fully explained but draws them closer together all the same. In this story, the point is that living for the moment is what Isabelle does, even when that moment is uncertain or otherwise uncomfortable. There are too many people in this world that have experienced the perspective of living on limited time, meaning that they know very well what it's like to cherish and value every moment given to them sine once it's come and gone, the memory is all that remains.
One should already be able to tell that this is going to be a saddening but liberating story of love and what it takes to truly appreciate and enjoy the time we're given in this world since no one is here forever and the time we have can be cut short without warning. Isabelle's reluctance to get involved with anyone is something that a lot of folks can possibly understand since those with limited time will either want to spend as much of what's left of their life simply enjoying the world and all it has to offer, but might not want to make anyone care too deeply about them, since eventually they'll be gone, and their passing might cause too much heartache. Some might call this selfish no matter that the people with the condition are attempting to be kind, but the truth of the matter if a person is going to enjoy the world and everything in it, enjoying the company of another person is bound to help them feel a little more complete until the final day comes when they have to say goodbye. The pain of meeting someone and then losing them only a short while later is a part of life that more than one person has gone through, but the moments we keep as fond memories are those that make such meetings worthwhile, and the pain and anger of losing them fade away after a while. Some would say life isn't fair, and they're right, but it was never designed to be.
Both Smith and Delevigne have been in and out of the news and have been seen as both controversial and kind of hard to pin down over the years when it comes to who they are and what they want to do with their careers. Between the two it does feel that Delevigne has been the more stable when it comes to life and career, but this movie already makes it appear as though both young actors might have an interest in returning to the mainstream, at least in part, since it's unknown just how this movie will affect both of them moving forward. One role usually doesn't end up changing people for the better or the worse, at least not lately, but the feeling behind this movie is one that we've likely felt before in pop culture, and whether or not it heralds a new direction for both actors, it will be another look at two very talented young people that have been widely supported by their fans for quite a few years. Smith is without a doubt the more uncertain of the two since his movie career has been far less than certain, but it does appear that this might be a chance to show people that he's still uniquely talented and can continue to show the fans that no matter what be going on in his personal life, he's still someone that's worthy of note. As for Delevigne, she's been fairly solid for years, as roles such as that of Isabelle are where she's managed to excel more than once.
The movie looks like something that will create a great deal of emotion in those that watch, and will easily remind people that life is precious and that each moment is to be treasured.
Tell us what's wrong with this post? How could we improve it? :)
Let us improve this post!