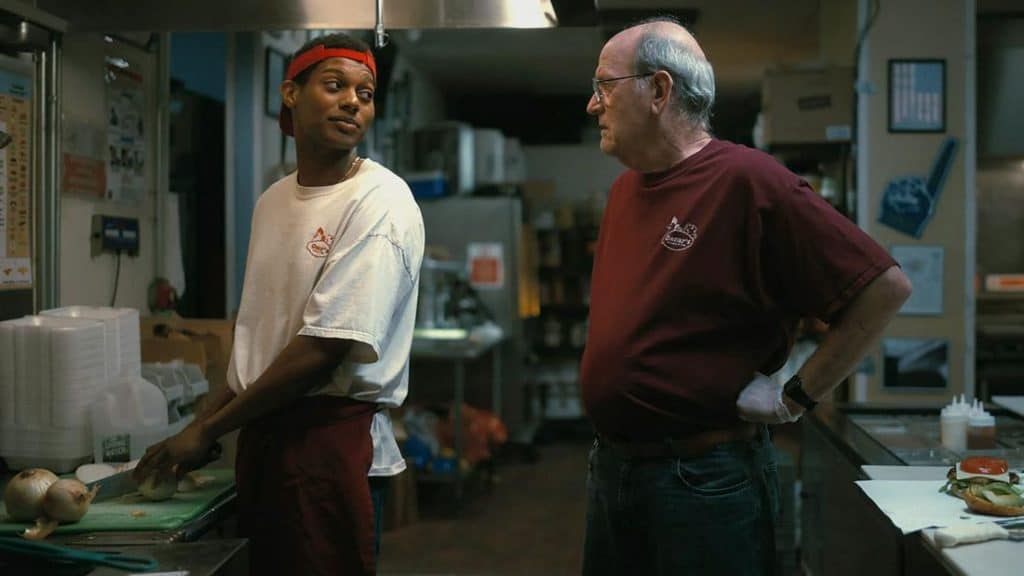 The Last Shift is what happens when people that live in the same world but are from different parts of it are thrust together in the same situation with different skill sets that continually clash with one another. Did everyone get that? Richard Jenkins and Shane Paul McGhie play the parts of two men that are in very different places in their lives and yet have to share a job that a lot of people can easily understand is not the easiest thing in the world but is also not exactly rocket science. This kind of movie might touch anyone that's been in the shoes of either man and has either watched life go by through a window after doing little to nothing more than getting by or being intelligent enough to apply oneself to something great but finding that their views, when expressed without any humility, tend to get them in trouble. Both men have a very different outlook on life, and yet they both have their own way of dealing with things that has kept them moving forward in their own way. While Stanley, played by Jenkins, is a high-school dropout that has spent the last 38 years of his life working in the same place and doing the same things with his life, while Jevon, played by McGhie, is an intelligent young man whose attitude is keeping his forward progress in check. It's not a bad thing to be the smartest person in the room, but learning how to be humble and considerate can complement intelligence in a big way and even create wisdom in the process. On the other hand, taking pride in what one does for so long is great, but using this as a means to hide from the world is something that many people do on a regular basis.
There are those of us that have experienced various aspects of both individuals in this movie and it might be that some folks can relate to both Stanley and to Jevon in various ways since there are plenty of people that rest in the middle that have shown such great potential to do something more with their life but have yet to master the need for tact and when to challenge others. There are also plenty of people out there that have been holding down a single job for so long that one has to wonder why they've never moved on after mastering skills that won't take them any further in life. That's not quite fair since there are plenty of fast-food workers out there that have mastered nearly everything they can in their given business, and might not wish to move forward due to the fact that they're in their comfort zone and have learned how to live within their means. Of course, this isn't the kind of explanation that people tend to accept or even consider as healthy or acceptable since the continual belief of many is that a person has to grow, to learn, and to keep learning until the day they die. As someone that's worked in high and low-end jobs, the need to excel and the need to simply exist at times depends on one's situation. The Last Shift is already looking like a movie that will operate on the basis that both men will have something to learn from one another and in the end, one will learn how to open up to the world around him again and the other will learn how to navigate through the world without feeling the need to take the hardest course.
There are likely many people out there that can attest to having worked with people such as Javon and Stanley in the past since many upon many jobs have the lifer that's been there so long that they don't know much else, and the younger individual that thinks they know everything about everything. There's a lot to be gleaned from both types since the lifers tend to have the kind of knowledge that one doesn't always find outside the workplace, while the know-it-alls are more than a little intelligent quite often, but their level of wisdom has yet to fully mature as they get the idea that everyone needs to know what they do because it will make their lives that much better. Having worked with both it's easy to say that listening to them both can be an exercise in patience unlike anything a person might ever experience, but at the end of the day, if there's common ground to be found, it's that if they work at the same job together for long enough and actually listen to each other for long enough, both types will eventually learn something they didn't know, and they'll end up amazing themselves, and any others that are nearby.